Whether you're an accomplished cook or prefer someone else to handle the culinary side of life, there's no escaping the fact that the kitchen is one of the most vital rooms in the house. Harrison Varma was established in London in 1996 by husband and wife team Anil and Marisa Varma with a focus on incorporating stylish design and handcrafted bespoke features. Marisa Varma says,
"We have always viewed the kitchen as somewhere for family to congregate and relax together in a practical yet stylish environment. Because of this, open-plan kitchen/family living areas have become one of our trademarks.
"Our typical layout includes an expansive kitchen with central island and statement breakfast bar, a tall storage wall, dining table for 8-10 people and an adjoining family living room with a large L-shaped sofa arrangement. Sometimes our clients prefer to use sliding doors which allow the room to be divided and block out noise or cooking smells. This formula creates a space that is multi-functional and lends itself to many activities, allowing a family to connect and interact rather than be separated throughout different rooms."
Harrison Varma still adheres to the 'kitchen work triangle' which is an easy tool to assess the ergonomics of your kitchen.
"The larger the kitchen, the more triangles you need to create,"
explains Marisa,
"that's why in many of our kitchens we double-up on appliances like dishwashers to create an easy working environment. The kitchens in the apartments at Buxmead in London's exclusive Bishops Avenue are by Bulthaup and include two sinks, two fridges and a wine fridge, combi microwave and warming drawer, steam oven, oven and state-of-the-art coffee machine. They feature a range of timber cabinets to match their chosen veneer and the worktops are made of different types of granite – for example, Apartment 12 features granite with a blue fleck therefore blue has been incorporated into the interior finishes to create a cohesive and individual look.
"Now, more than ever, we believe that the kitchen is not just for cooking in – it is an important space to impress and entertain as we enjoy cooking as a pastime and want to be able to spend periods of time there, chatting and interacting with family or guests alike. Therefore, it has never been more important to create a space that is functional but visually impressive and enjoyable to socialise in."
Harrison Varma tends to use natural materials alongside leather furniture and decorative lighting; often using high-quality granite or marble for the worktops, polished timber cabinet doors, Italian leather seating and pendant lighting above the breakfast bar for dramatic effect.
"We also try to remove clutter from the surfaces,"
explains Marisa,
"therefore we now incorporate zip taps for instant hot water, filtered water taps, integrated coffee machines, and neat 'plug tower' solutions for unsightly yet necessary power-points. We have also noticed the trend for 'designer kitchens' – for example, you can now buy a Fendi Casa kitchen and Giorgetti launched a stunning kitchen at Salone del Mobile in Milan last year."
Cabinet doors form an important visual element that can define the style of the kitchen, depending on whether they are more traditional or a contemporary high-gloss finish, for instance.
"Our bespoke joinery workshop can produce bespoke kitchen doors, allowing our clients to create a unique space with complete flexibility in terms of the finishes, decorative details and door handles that they can select,"
says Marisa.
"One of our favourite projects is the uber-modern, award-winning project The Mansion in Highgate which was completed in 2008. We created book-matched Macassar Ebony cabinets that were hand-polished over 10 times (a similar finish to a Bentley dashboard). We can also work with organic timber to create a rustic look for breakfast bars – we worked on a project like this for a celebrity client who was inspired by the look at a restaurant."
Harrison Varma 
www.harrisonvarma.co.uk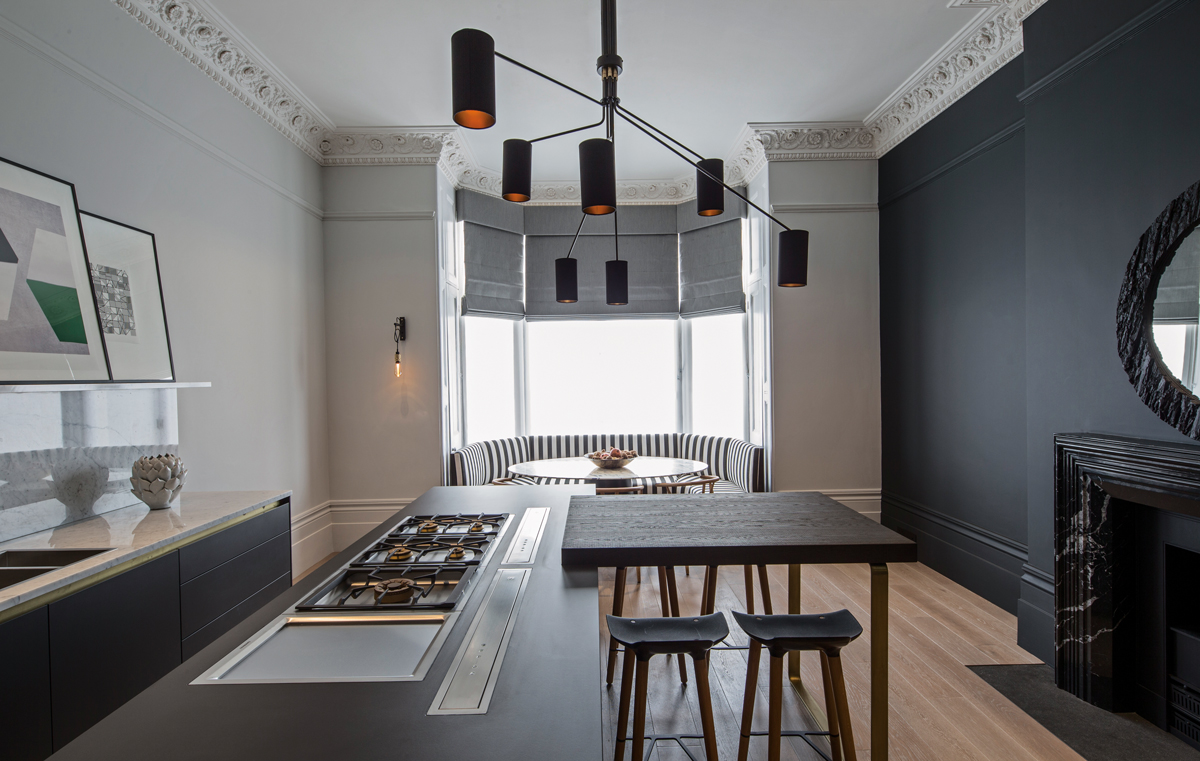 Space Identity
Roselind Wilson Design is a London-based interior design studio specialising in top end residential projects in the UK and abroad. "We believe the space and the person to be one and the same," explains the company's founder and owner Roselind Wilson. "Our processes, values and culture are design-centric and focused to deliver strong space identity. "Give thought to the kitchen's position within the house. Will it be part of an open plan arrangement that forms an extension of the dining room or will it be a completely separate room? Will it be an intimate kitchen where the family gathers around the breakfast bar to share meals? Or will it be a more formal entertaining kitchen where a private chef will prepare dinners for guests? It might perhaps be a combination of both however these are significant questions that should be considered in the layout, seating, appliances and lighting to ensure the desired functionality and outcome of the design." Roselind advises that a kitchen with an island is most advantageous. "This not only allows for a desired preparation or cooking surface but also forms the perfect room divider if it is open plan. It's also good to ensure that all tall units are not placed directly opposite the kitchen entrance," she says. "This can make the kitchen feel smaller or cluttered. If your kitchen has a bay window, a perfect design feature to incorporate is a banquette seating area that can function as a dining or informal eating area." Bright colour schemes tend to become outdated quickly and so Roselind's advice is to steer clear of these. "You can be bold with colour, however the best options are moodier, darker colours like greys, blues and greens. Even a monochromatic scheme can remain sophisticated and timeless when paired with other materials and finishes. Opting for a single colour in the kitchen can feel clinical and uninspiring. A good suggestion is to marry woods and natural stones or composites for practicality and durability as this adds a timeless feel." Modern trends have allowed the kitchen to take on the same hierarchy as the living and dining rooms meaning that features akin to these areas are now found in the kitchen. "Adding a feature fireplace gives a homely and inviting feel to the kitchen," says Roselind. "Another consideration is to have fun with the floor. Stunning resins are fantastic, durable surfaces for the kitchen and can act as a blank canvas on which you can add patterns and a burst of colour if required. "Kitchens are now showcasing timbers in warmer tones and generally richer colours. Lighting is being introduced in varying levels with LED ceiling spotlights supported by ambient wall lights and channel lights in joinery and behind glazed units to add a sense of warmth. Marbles have always been a priority in any high-end kitchen design however these are being replaced by composites that brilliantly mimic marble for their durability and practicality – qualities that are becoming extremely important to a discerning clientele."
Roselind Wilson Design
www.roselindwilsondesign.com