Named as one of the top billionaire playgrounds by Forbes magazine, Antigua, one of the Leeward Islands located in the West Indies, is home to numerous celebrities and captains of industry and a favourite of elite travellers. The island, a 9 × 12-mile stretch of hills with a jagged coastline, claims famous residents and visitors such as Eric Clapton and Oprah Winfrey and is known for multi-millionaire manors like the Mellon estate at the exclusive Mill Reef Club. Over in Barbados, the parish of St James is becoming increasingly known as a haunt of the rich and famous as well as a haven for sun-seeking tourists. St James was known as the Gold Coast but due to its ongoing popularity it is now referred to as the Platinum Coast, reflective of the parish's many beachfront mansions, pristine beaches, superb hotels and consistently high land prices.
St James also has great historic significance, as it was here that the first British settlers landed in 1625. Under the authority of King James, the British claimed Barbados upon landing in St James' present-day city of Holetown (formerly Jamestown, named after the King himself); this settlement turned Barbados into what would later be known as 'Little England'. As for the British Virgin Islands (BVI), here the past and the present combine with ruins remaining alongside magnificent resorts that attract visitors from all over the world. Comprising four main islands and over 50 smaller ones, the BVI are part of a volcanic archipelago. The largest island, Tortola is ever-popular for its white sand beaches, lush green mountains and sheltered harbours filled with yachts.
Interestingly, the shape of the BVI's third largest island, Virgin Gorda, reminded Christopher Columbus of a well-rounded, reclining woman, and it was this that is said to have been the inspiration for its name. Measuring 8.5 square miles, Virgin Gorda is renowned for its yacht clubs, quiet coves, safe anchorages, high-end resorts and superb villas. Our final destination for this particular resume of the 'British Caribbean' is the Cayman Islands. Grand Cayman, the largest island of the three covering 76 square miles, is known for its fabulous beach resorts and varied scuba diving and snorkelling sites. On the west side of Grand Cayman is famous Seven Mile Beach. This crescent-shaped natural wonder is often rated as one of the most beautiful beaches in the Caribbean as well as being the least populated.
Mahoe Bay, Virgin Gorda, British Virgin Islands
Above a rugged shore surrounded by three almost deserted white sand beaches is Katitche Point Greathouse. This oceanfront estate overlooking the Sir Francis Drake Channel has five bedroom suites, each with private verandas and unparalleled views. The property includes an interior courtyard with swaying palms and rich tropical landscaping that features contemporary sculpture by renowned artist Joerg Siegele. The master suite even has a secret outdoor bath and shower amongst the koi ponds and greenery. Other highlights include a swimming pool complete with its own bar and a walk-in wine cellar.
£6.45m / €7.44m / $7.95m
British Virgin Islands Sotheby's International Realty
www.bvisothebysrealty.com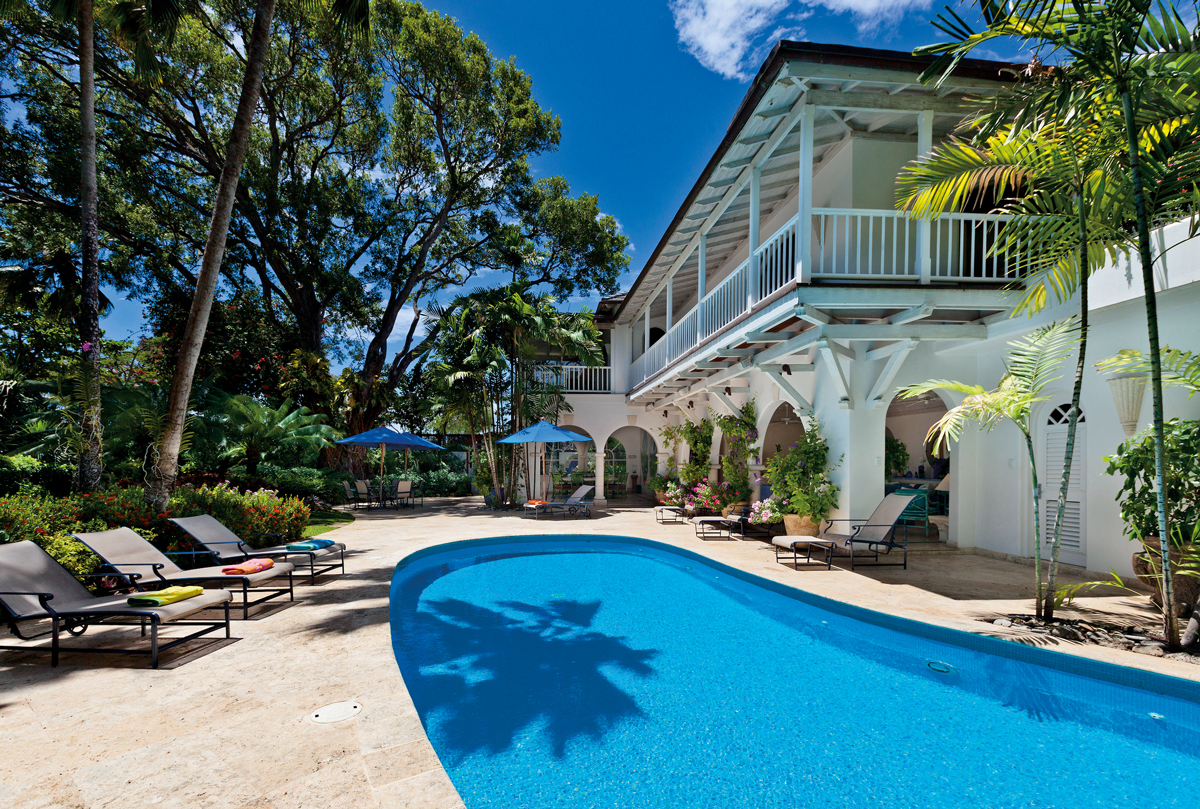 St James, Barbados
Calmaro is in a secluded beachfront location between Sandy Lane and Sunset Crest. Lush, mature gardens set the tone as you walk through the main entrance to the pool deck. The outside dining area is perfect for lunch and dinner, while the gazebo near the sea is the perfect spot to enjoy breakfast or afternoon tea listening to the gently lapping waves of the Caribbean Sea. The 5,500 square foot house has four air-conditioned bedrooms, all with en suite bathrooms. There are stunning ocean views from the master bedroom and balcony which also features its own private terrace.
£6.5m / €7.5m / $8m
Realtors Limited
www.realtorsluxuryestatesales.com


Cockade House, Barbados
Close to Sandy Lane with sea views across the exclusive Green Monkey golf course, this property is on a private estate of approximately 5.5 acres. Its current owners have completely renovated and refurbished the original plantation home that had been re-designed by Oliver Messel, the celebrated theatre stage designer, in the 1970s. The renovations have added a number of new cottages which now total seven en suite bedrooms. Other outbuildings include a laundry and staff room, separate gardener's cottage and a garage. As the property is surrounded by Sandy Lane Estate, the owners allow a well-known Cricket Academy to use the professionally laid cricket pitch and pavilion in one of Cockade House's lower fields. The main house retains the beautiful Palladian style of Messel's design and consists of a formal sitting room leading to a spacious informal sitting and dining area. There is an extensive master suite with a private terrace opening to the swimming pool and a master bath which opens to a tropical outdoor shower room.
£9.33m / €10.77m / $11.5m
Barbados Dream Properties
www.barbadosdreamproperties.com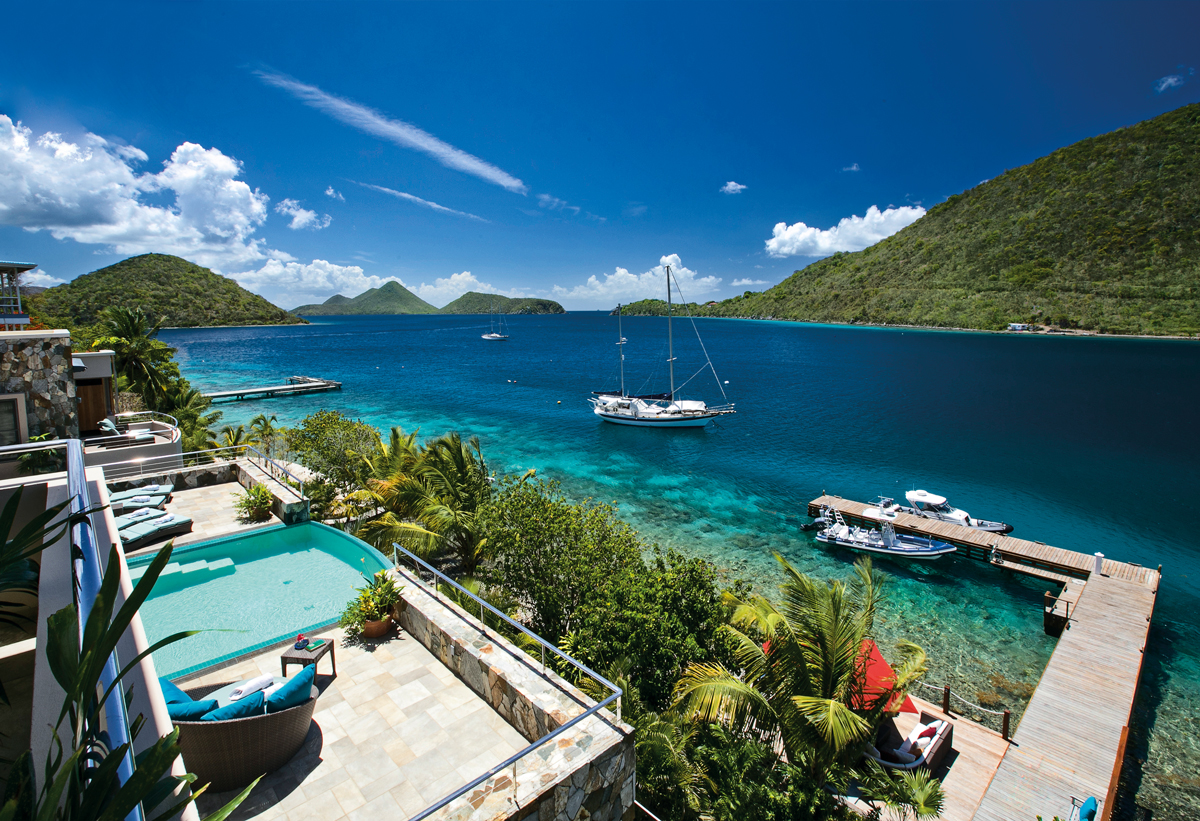 Tortola, British Virgin Islands
On Frenchman's Cay, this contemporary waterfront home has one of the most substantial docks in the BVI, capable of accommodating boats in excess of 80 feet and drafts of over 10 feet. The three-level property spans a total of 5,586 square feet including decks and pool with panoramic views of Tortola's south west coast and western tip as well as Little Thatch and Great Thatch Islands. There is an open plan living room, a fully equipped kitchen and three guest suites together with office and private seating areas on all floors. A private master bedroom suite is located in a separate cottage, while amenities include an expansive swimming pool terrace with covered alfresco dining and barbecue area.
£4.83m / €5.56m / $5.95m
Knight Frank International
www.knightfrank.co.uk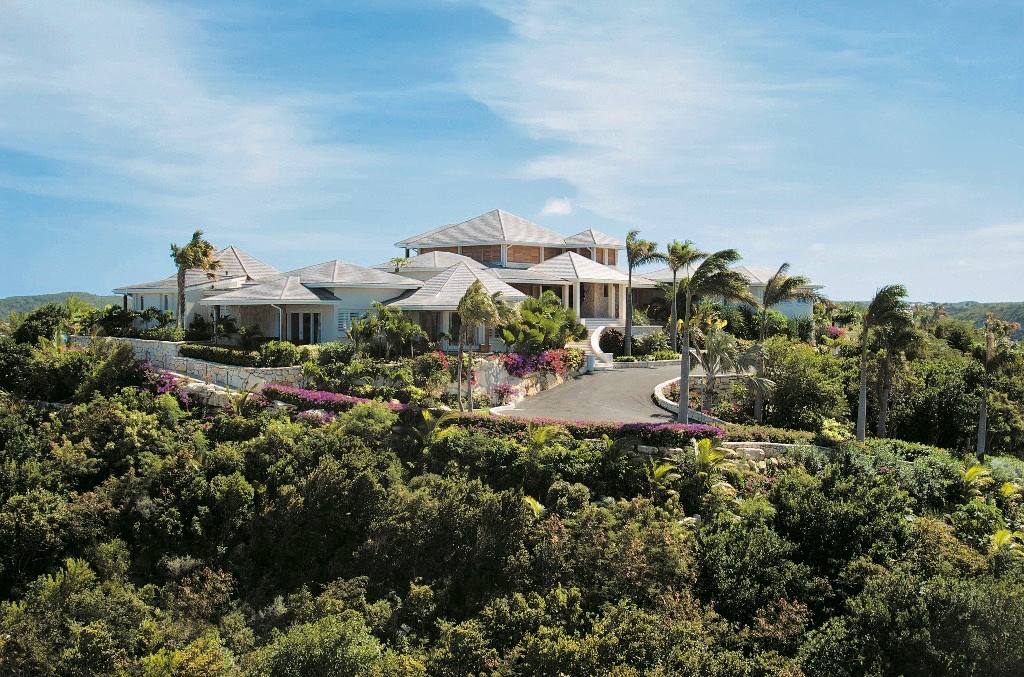 Villa Antiqua, Antigua
This celebrity-owned compound is an immaculate hilltop estate with a beautiful beach and is in the vicinity of other notable estates owned by Oprah Winfrey, Giorgio Armani and Eric Clapton. The main estate has six rooms and 12 bedrooms while the three single-level guest villas along the waterfront beneath contain 13 rooms and 26 guest suites. Designed with every attention to detail, this is the perfect property for the sailing aficionado or anyone who wants a tropical retreat that is the epitome of privacy and elegance.
£35.7m / €41.2m / $44m
Christies International Real Estate
www.christiesrealestate.com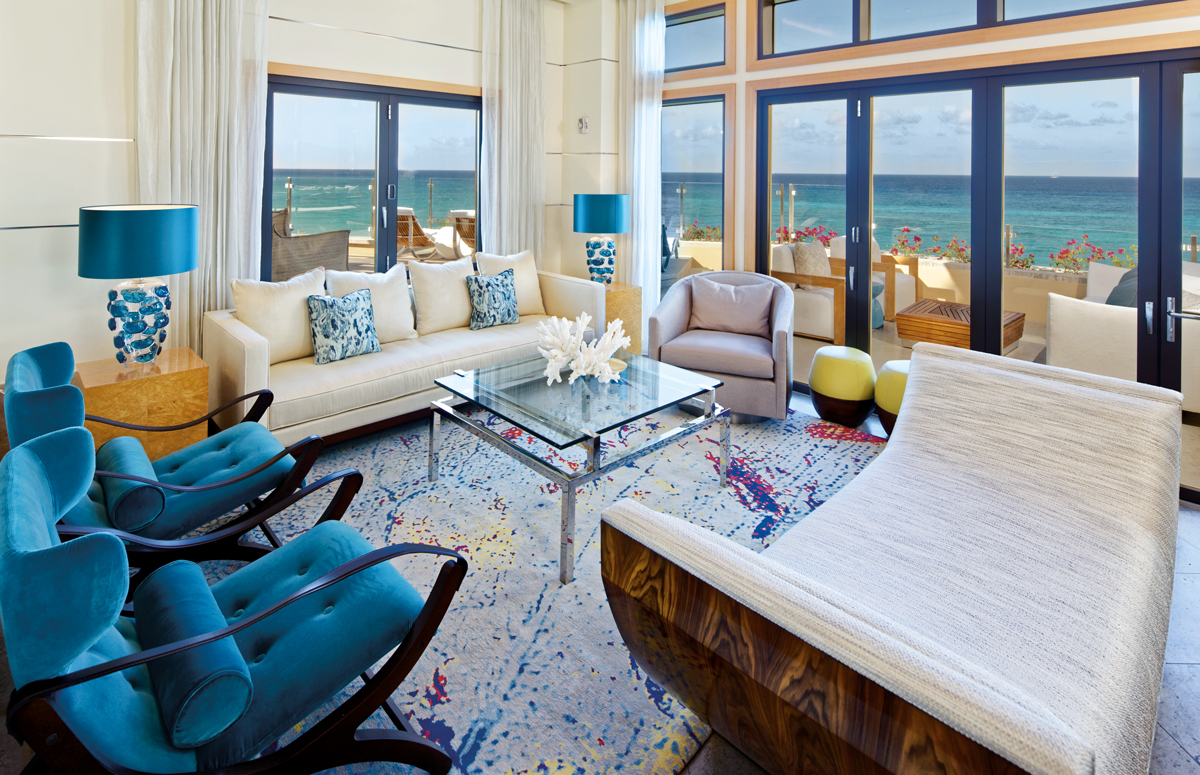 700 Seven South, Grand Cayman, Cayman Islands
Ideally located on the top floor of The Ritz-Carlton Residences in Grand Cayman, this 8,070 square foot penthouse offers expansive panoramic views of the renowned Seven Mile beach. Featuring extraordinary finishes and world-class interior design, the three-bedroom, four bathroom property has access to all of the amenities and privileges of the Ritz-Carlton resort community. These include five restaurants, La Prairie Spa, a fitness centre, two outdoor pools and an oceanfront Jacuzzi, tennis centre, The Ritz-Carlton Golf Club, Grand Cayman, a nine-hole golf course, basketball court, retail shops and a dedicated concierge.
£13.1m / €15.12m / $16.15m
Christies International Real Estate
www.christiesrealestate.com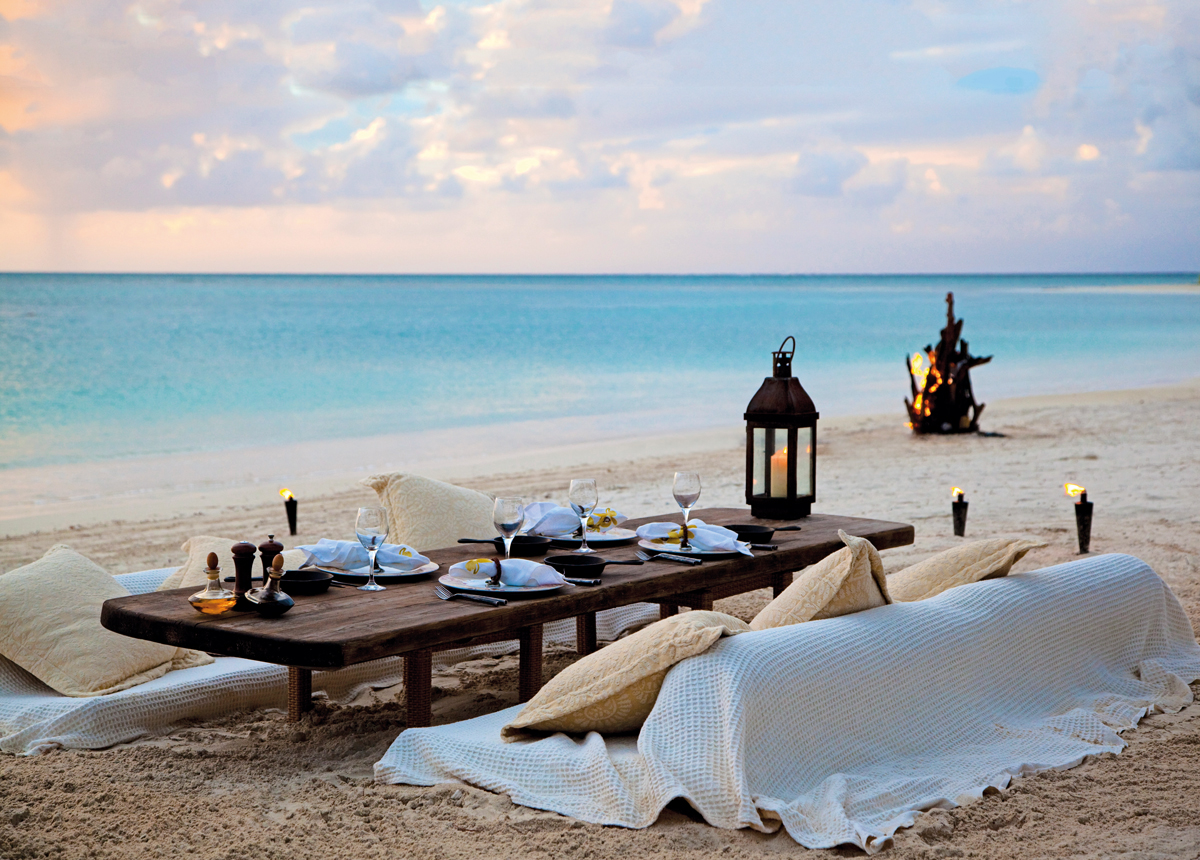 Relax
Accessible only by boat, Jumby Bay is an exclusive retreat on its own 300-acre private island, two miles off the coast of Antigua
Jumby Bay, a Rosewood Resort, offers its guests a relaxed and authentic Caribbean escape with superb white-sand beaches and lush tropical environs. The hideaway features a Sense spa, 40 spacious suites and accommodations, a beachfront Verandah Restaurant, Pool Grille bistro-style restaurant and multi-million dollar Estate Homes with private pools and tennis courts. Leisure amenities include watersports, tennis, hiking and biking trails, an oceanfront infinity pool and a new fitness pavilion with a stunning yoga deck for pre-spa meditation and yoga instruction. Following a £4 million restoration, Jumby Bay's signature bar and restaurant, The Estate House has recently reopened. The circa 1830 plantation house, once the centrepiece of the island's sugar plantation and the oldest building on Jumby Bay Island, has been returned to its former grandeur with a design scheme inspired by the home's rich history and island traditions. It will include a main restaurant and bar with three new private dining rooms each featuring a different island-inspired menu, as well as a wine room. Pure Turquoise is the newest Estate Home on the island and is available to rent inclusive of all meals either in the home or throughout the resort, drinks including alcohol, and all resort facilities. The house has 20,000 square feet of air-conditioned living space which includes seven bedrooms all with en suite bathrooms. There are indoor and outdoor dining and living areas, an 82 foot heated oceanfront infinity pool with spa, a croquet court and pavilion, gym and flood-lit tennis court. Pure Turquoise also comes with a full time private chef, housekeeper and butler.
 From £28,400 / €32,790 / $35,000 per night (minimum stay eight nights)
www.jumbybayresort.com