Whether you prefer intimate and cosy or wide open and spacious, a lounge is one of the most important rooms in any home. It will be used for family relaxation as well as for entertaining friends and so must live up to all expectations. Alexander James Interiors has designed many beautiful and luxurious lounges over the past 20 years and the brief frequently given by its clients is for a contemporary yet livable and homely design.
"The idea that contemporary means hard lines and cold finishes is now a thing of the past,"
explains Natalie Rudland, designer.
"The layout of the room should always be practical and comfortable. Over the years, we have built up strong relationships with master craftsmen and frequently commission bespoke items of furniture. These pieces are designed by us in the exact finishes and colours to create a perfect match that works with the room scheme. Mirrored and metallic finishes are always set to impress guests, and they help to bring another dimension to the space. We also specify the size of the furniture, choosing pieces that are sized right for the space so that they make an impact and don't get lost in the room; don't be afraid to use oversized furniture, artwork or mirrors in large or open areas."
Natalie advises that the layout of the room can be made flexible by placing individual armchairs so that they can be rotated to face a roaring fire for example. Exquisite accessories can also be placed on coffee tables with a mix of glossy, reflective surfaces and rich, elegant, metallic frames.
"Good lighting is vital to any room,"
continues Natalie,
"and layering is the key. It is important to build flexibility into the lighting system, with the ability to create a sophisticated ambiance for evening entertaining, as well as practical lighting suitable for every day living – you can now even use your smart phone to achieve the perfect light setting. Soft lighting emanating from the cornicing, table lamps and chandeliers should all be utilized to provide a relaxed and gentle atmosphere."
As mentioned before, using mirrored, metallic and gloss finishes on furniture also provides a way to reflect more light around the room, helping to bring it to life through added layers.
Using a selection of patterns, colours and textures is a good way to add more depth to a scheme.
"We may hang fine, sheer curtains from the windows, allowing natural light to filter through,"
concludes Natalie.
"Hanging a coloured sheer curtain will cast a hue across the room, and this colour is then echoed by the plush cushions on the sofas. This colour will then be extended to the accessories and artwork to bring the scheme together."
Alexander James Interiors +44 (0)118 932 0828
www.aji.co.uk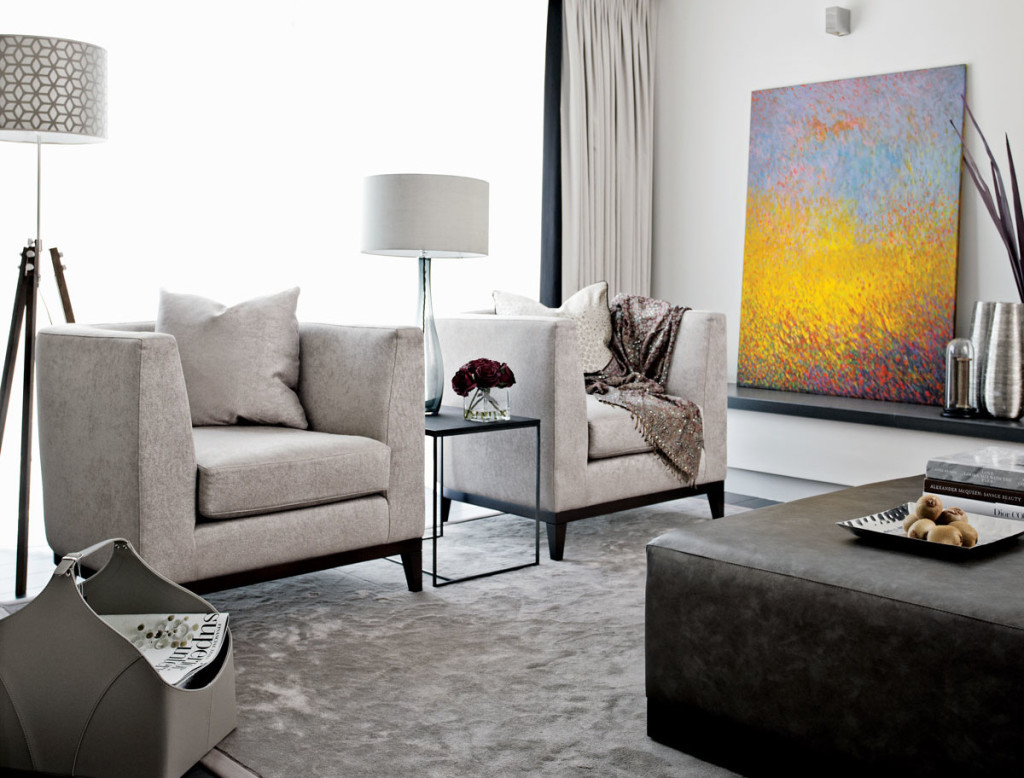 The words 'contemporary' and 'modern' are bandied around synonymously by the clients of Boscolo, an established, high-end architecture and interior design company based in London. Gurjeet Hunjan, design director, says, "Reserved for an era of design, the 'modern' age is, rather ironically, in the past, with 'contemporary' the zeitgeist of the day. This is not only a reflection of current trends in design, but also utility and function as determined by developments in technology.
"When we approach a lounge design there are a few key features that we feel exemplify the aesthetic we are going for – something that reflects the style of today, and which makes the whole experience fit for purpose."
Though not always viable and difficult to achieve perfectly, one element that Boscolo likes to include in its designs is symmetry.
"A lounge space is an area to relax and unwind in,"
explains Gurjeet.
"Working on a subconscious level, symmetry gives the user a sense of calm and tranquillity, which is an absolute must in this day and age where life moves at such a fast pace."
Gurjeet advises that one of the best ways to achieve symmetry is to create a feature or focal point in the room.
"Whether this be a fireplace, a table or even a television, we like to take this feature and expand outwards. That way we can construct a narrative around the main function of the room – whether the client wants a space to watch shows or an area where the family can sit and talk.
"As we expand outwards, we like to use clean, clear lines, ensuring that there's uniformity throughout. This is a simple and uncomplicated way of enhancing symmetry and creates a clearness of purpose as well as mind. To get this effect we like to use contrasting colours – lightly coloured spaces accented by rich, dark woods – highlights of pure luxury and decadence in a sea of tranquility."
Once again, what really brings this together to elevate a good design into a truly luxurious example is the use of lighting.
"Light transforms how we understand and process every aspect of an interior,"
enthuses Gurjeet.
"It casts shadows, highlights features of the room, elaborates on the fabrics, draws your attention or focuses it elsewhere. It's the most powerful tool in our arsenal and a well-considered lighting scheme is an absolute necessity for anyone looking to convert a lounge into a luxury space."
Boscolo +44 (0) 845 20 20 208
www.boscolo.co.uk