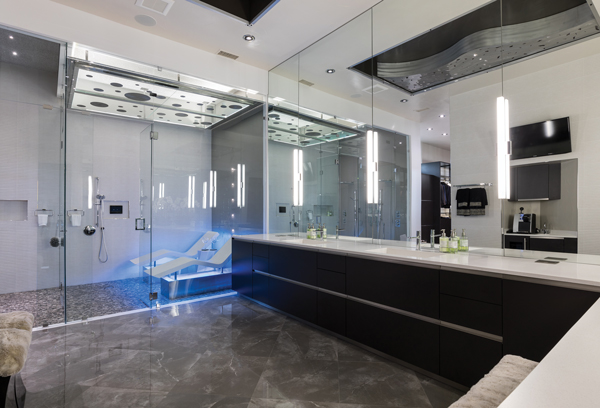 With more than 19 years of experience, The Nielsen Collection of Interiors specialises in kitchen and bath redesign with fresh, contemporary styling that will engage one's imagination.
To add to its repertoire, the team was tasked with creating a zone for relaxation and stress relief.
To ensure inner and outer harmony in this bathroom, we began with a fresh clean white palette for the background and balanced it with shades reminiscent of nature, while the dark cabinets provided anchorage for the space. The colour filled steam shower provided healing and physiological impacts through the use of chromotherapy, such as blue, the colour for peace and purple, the colour of spirituality and relaxation.
            Other materials chosen were large textured slab tiles for the shower and steam areas, accented with natural stone in warm and cool shades of creams and grays, while stainless steel was used for the base of the custom steam lounger seats and the custom ceiling light fixture. Chrome, glass and mirror completed the look and feel of the elements used throughout the space, creating an area to suit our clients' needs.  www.nielsencollection.com