Lamborghini is famous for producing the most striking supercars and one of its first is still, to many, the most beautiful car ever designed, the Miura. So why did Lamborghini think it could also produce the world's most beautiful SUV? Many car companies have tried and failed to produce an attractive off-roader.
The problem stems from the ground clearance required for a vehicle to climb mountains and other obstacles. The result is usually agricultural. Although Lamborghini has built outstanding tractors for many years, only one of its cars has ever resembled a utility transport – and it is not the Urus.
The car is a revelation, it's a pumped-up supercar and not only looks amazing, it also performs brilliantly both on and off road. I am sure owners will not be heading for the Himalayas the first chance they get but if you find yourself on a greasy field or in a flash flood it will leave almost all the other cars behind while still being able to turn muddy heads and faces.
Downsizers leaving behind their mansion and five-car garage for an apartment can trade in all their other cars and just have the Urus. It will do all the tasks of the most eclectic collection of cars. I cannot think of one other SUV that would be completely at home tearing around a racing circuit on a track day.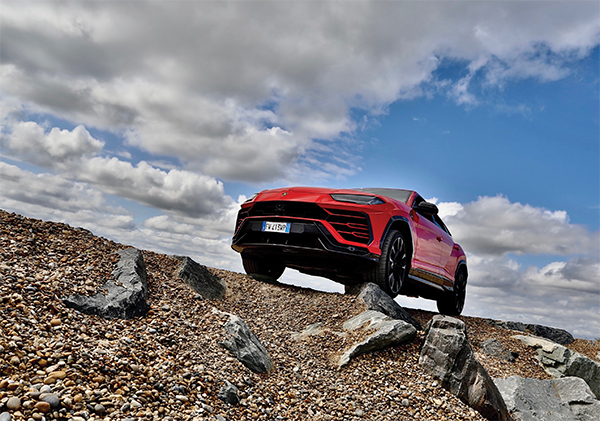 At the 2019 Silverstone F1 Grand Prix, I was directed across a farm track to get to the hospitality parking and the rough concrete single track was rutted and lumpy. Any normal supercar would have grounded its carbon fibre diffuser or rear splitter en route. I decided to take a detour straight across the field and it was surprisingly hilly. The Urus ANIMA dynamic driving selector offered me everything from racetrack to sand and bog settings and I was able to navigate the 4-litre bi-turbo, 650 horsepower, eight-geared supercar to my parking area ahead of the pack. It was amusing to watch the faces of the drivers stuck in the queue as I sailed off into the long grass to park.
On my return from enjoying excellent hospitality and watching a rather dull race, I noticed the parked-up Urus had attracted a crowd of admirers. The striking red and carbon fibre bodied Lamborghini had captured the hearts of F1 fans. Perhaps Lamborghini should also consider Formula 1 in the future rather than just Le Mans?
Facts & Figures
4-litre V8, bi turbo powerplant delivering 650hp through eight gears
4-wheel drivesystem weighted toward the rear wheels
3.3 seconds to 60mph
Capable of 19 milesto the gallon
UK price around £167,000