It's hard to believe there is a V12 twin turbo engine under the bonnet; I pushed the start button then thought I needed to call the RAC. No need, the engine was fired up and idling yet I could neither hear nor feel it. Although rain was forecast, the roof came down and tucked neatly away while the 6.6 litre engine soon delivered warm air from the classic chromed vents.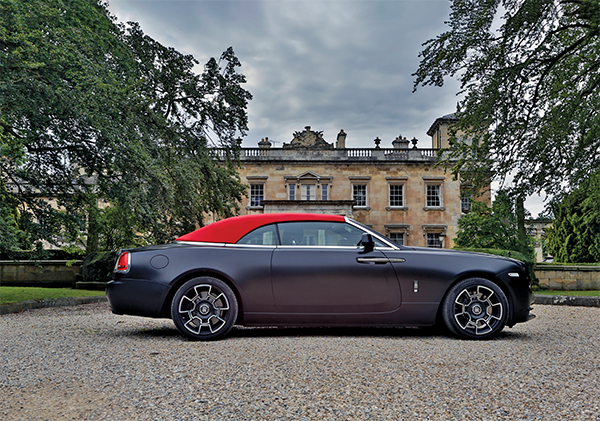 We headed north and I still couldn't hear the engine – but what's the need? A long journey can be tedious if the engine interferes with your favourite radio station or the sound of the breeze. The rev counter displayed power left in reserve and quite often sat close to the 100 per cent marker, even at speeds that could set off the dozens of speed cameras along the A14 bypassing Cambridge.
A comfort break was needed and a roadside Starbucks appeared in the distance. I sat by the window and admired the view of the car's satin black bodywork which contrasted well with the red soft top. It was the only Rolls-Royce in the car park for about five minutes until another pulled in and parked next to mine. Somehow the owner picked me out from all the other Starbuckers and joined my table to drink his latte. Before long we swapped some stories and discovered we had some mutual contacts. He had another Rolls-Royce kept in Marbella – two more than me as my press car was only on loan.
The Dawn Black Badge has the most powerful engine in the range which develops just under 600 HP from the 12 cylinder engine. The huge torque thrusts you from standstill in the same way as an electric car, yet refuelling takes much less time than the many hours needed to recharge. It is also surprisingly fuel efficient and there was plenty left in reserve when we crossed the Tyne Bridge.
The route south two days later was broken by an overnight stay at Grimston Park, a Grade II* mansion dating from the early 1600s designed by the architect Decimus Burton. My host was so impressed with the car, he called a good friend of his who is a long term Rolls-Royce owner and enthusiast. Just 30 minutes after our arrival, Trevor Komaromy and his 1927 'Twenty' rolled up the drive. His car is one of only 30 built and has an electric phone for passengers to talk to the chauffeur. Trevor has owned his car over 47 years and proudly told me that it has never once 'failed to proceed', including a recent 2,000 mile run to Venice and back. Having driven the Dawn for just four days I can understand why any owner might not want to let a car like this go.