It's not just royalty who can travel in their own private railway carriages.
Trans-Siberian journey on-board the private Golden Eagle train can now be enjoyed in the Romanov Suite – an entire private carriage with its own kitchen, chef and personal guide
The Golden Eagle was launched in 2007 and guests can join this Trans-Siberian Express between Moscow and Vladivostok. The journey covers a massive 11,000 kilometres over two weeks, largely following the famed Trans-Siberian Railway which weaves through Russia's vast and little-visited interior, over the Urals and across the Steppe.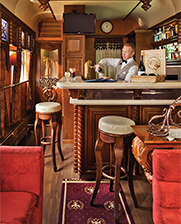 Among the many highlights along the way are: witnessing the modern Soviet city of Novosibirsk; enjoying a glass of champagne with one foot in Europe and the other in Asia at Yekaterinburg, known as the Great Divide; learning to cook traditional Russian dishes in the 'Paris of Siberia', Irkutsk and travelling along the shores of Lake Baikal, the deepest lake in the world.
Romanov Suite guests can expect luxury on a lavish scale. The master bedroom measures 120 square feet and includes a king-size bed, private en suite bathroom and remote-controlled air-conditioning and heating and a complimentary mini-bar. The smaller second bedroom has a lower double bed, a single bunk-style upper bed, and private en suite bathroom/wet room.
The price includes exclusive hire of the Romanov Suite with 12 nights on-board the Golden Eagle and two nights' hotel accommodation, all meals and drinks with private chef, private vehicle and tour guide for off-train excursions, porterage, arrival and departure transfers, laundry and gratuities. Flights are extra.
£66,495 / €77,015 / $95,275 for a couple
www.goldeneagleluxurytrains.com