We meet Noor bin Eidan, a highly talented interior designer from Kuwait, who has become an inspiring role model for all women who dream of succeeding in their chosen career.
The western world often thinks of Arab women as being oppressed, all too often failing to recognise their talent and success stories, not only in the Middle East but also around the world. One such success story is that of a celebrated Kuwaiti designer, Noor bin Eidan. When entries were invited for the renowned International Property Awards, a competition seeking the world's most outstanding property professionals, Noor's company Done Interior was among those included.

The pearl chair
Noor's designs are exquisite and elegant, with many furniture items made of pearls and mother of pearl.
Pearls are part of her family history. Way back in the history of Kuwait, long before oil exploration began, the pearl trade played a key role in the economic activity of the Arab world. Noor's forefather 'Bin Eidan' was the owner and captain of the ship that found oysters and trade pearls and handicrafts made from pearls. Today, the story of Bin Eidan and his voyages still remain recorded in the history of Kuwait and have the highest integrity and honour.
Pearls are a rare and high valued commodity. In the Arab world, they are considered as white oil, just as the western world considers oil as black gold, and all the elite class women wear them with pride.
Noor's first exquisitely designed chair features pearls embedded into it. The chair's design and the way the material and pearls are featured show how close pearls are to her heart and art.
She has always expressed her rich family history throughout her art and business.
After designing exclusive furniture pieces for several years, Noor achieved her first interior design project as a consultant in 2003. Having successfully completed her education, she gained valuable experience from a few years spent as a self-employed designer.
Speaking from her own personal experience, Noor acknowledges how tough it is for an Arab woman to be successful when every mistake is scrutinised and criticised. "Every minute mistake is used to make you stop being independent," she says. She recalls the days she was out working late, causing stress to her parents and siblings and the amount of bullying she faced from her employees and contractors, simply for being a woman. Out of all these challenges, her dream of being an independent woman and her passion for interior design has pushed Noor to be successful.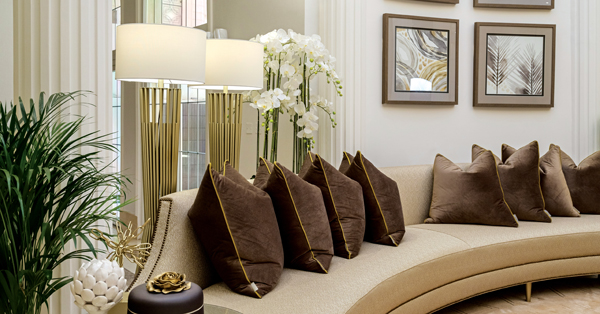 Noor's designs are exquisite and elegant, with many furniture items made of pearls and mother of pearl.
Entrepreneurship
After the completion of a few projects, Noor decided that it was time to start her own company, believing this was
the only way she could pursue her real aim in bringing dream homes to people. In other words, to turn a sketch of design into a piece of art.
This concept has been the enduring hallmark of the firm ever since Noor established it in 2013. Over the years it has been her passion, creativity and exclusivity that have allowed Done Interior to establish itself as the most
exclusive stop for complete turnkey interior solutions across GCC and Middle East.
Noor says the main reason for her success are the references given by her clients following previous completed projects. These references are offered as a result of the firm's attention to both quality and detail. This formula has become a guideline for its daily activity and is prioritised in the entire process of project handling. This extends right from the mood board to the choice of the timber and selection of fabrics, from the first drawings made for the client up to the installation of the furniture in his or her house.
Growth and presence
After the success of Done Interior, Noor continued to aim for new heights and this led her to set up a manufacturing unit. This operates alongside her studio and retail space, producing delightful ambiences and selling exclusive and selected lines.
The firm uses its manufacturing unit to give life to Noor's designs. Great care is taken in every single step of making each piece of furniture using raw materials and fabrics based on the chief designer's (Noor's) precise designs. The company's experienced master woodcarvers and sofa makers work under the patronage of Noor to ensure that every detail and every carving is studied and carried out in the best possible way.
Because of this practice, clients around the Middle East have been increasingly appreciating her designs and furniture. Noor's designs and business growth have also inspired many young Arabs, especially women. In spite of fame and demand, she is still making time for her charity supporting old age homes and social initiatives like supporting young and upcoming designers and women entrepreneurs. Noor considers this as an opportunity and blessing from Allah to give back to society.
Now the team, which currently numbers more than 100 staff, is expanding beyond the Middle East into Europe. Noor states that future plans are, "To continue to grow in a consolidated manner, to strengthen our international operation and to continue to create ambiences of excellence."
Done Interior By Noor Bin Eidan
Instagram
@noorbineidan
YouTube
noorbineidan
t: +965 249 12 342
doneinterior.com