There seems to be little doubt that Spain's property market is back on track. According to leading Spanish property valuation firm, Tinsa, 2014 showed the smallest nationwide house price devaluation since 2007 and, due to healthier supply-demand, record tourism figures (2014 should close with an all-time-high of 65 million visitors), an improving economy and falling unemployment for the second consecutive year, it expects house price variation to level out at 0% in 2015.
Ibiza
While Ibiza has many areas of unparalleled beauty, the south side of the island continues to be the most sought after, offering properties with the most magnificent sea views and pristine beaches. The world's international jet set continues to consider Ibiza as one of their favourite hot spots for entertainment, clubbing, boating and relaxation.
Estela Exclusive Homes is a boutique real estate company with over 15 years experience in the Ibiza luxury real estate market. Owner, founder and CEO, Estela Estevez, says,
"In recent years, Ibiza has also seen a tremendous increase in luxury home buyers coming from Russia and various Arab countries. The timing for investing in Ibiza has never been better. The island's luxury home market continues to be on the upswing and has proven immune to many of the recent economic downturns. Luxury home prices in Ibiza have continued to rise and buyers from all over the world view Ibiza as the destination of choice for security and return on their investment."
Santa Inés
Stunning six-bedroom villa in the heart of Santa Inés with a two-bedroom guesthouse and fantastic countryside views. The property also includes a living room with fireplace, a dining room and fully equipped kitchen. Outside there is a perfectly maintained garden with fruit trees and a large swimming pool.
£3.7m / €4.9m / $5.6m Lucas Fox +34 933 562 989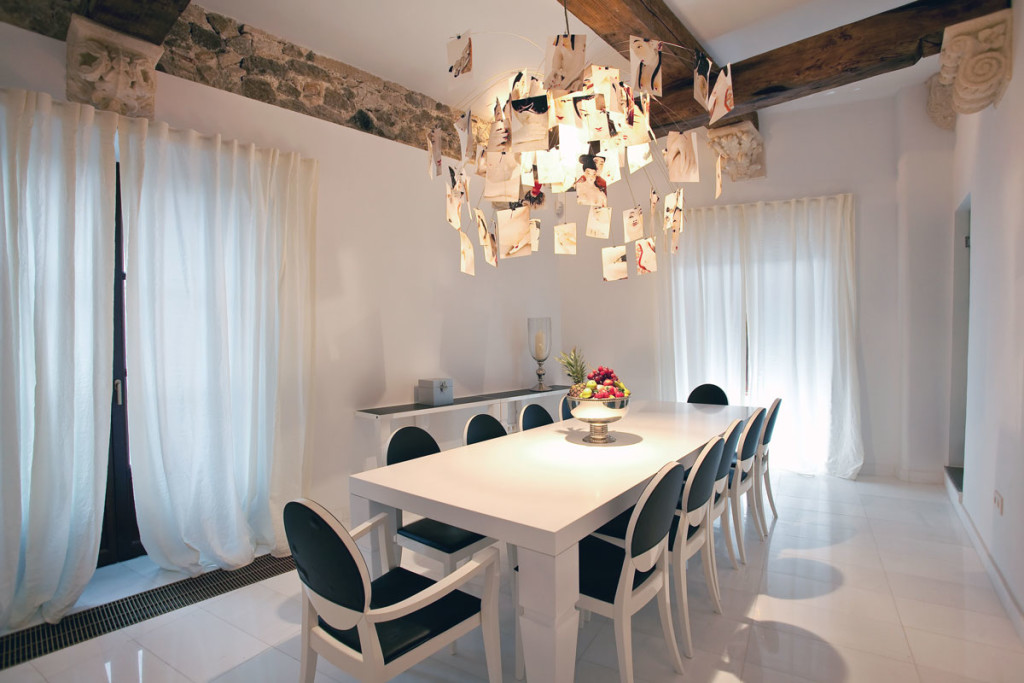 Palacio Bardaji, Dalt Vila
Built in 1742 but completely refurbished, this manorial palace is arranged over five floors at the heart of Dalt Vila in Ibiza Town, the island's capital. At ground level there is an ancient Phoenician tank viewable through high resistant glass flooring and a wine cellar. Moving up the building there are four en suite bedrooms, a further master suite with private lounge and dressing room, an imposing high-ceilinged living room, dining room with wooden beams and balcony with views to the cathedral, kitchen and a cinema room.
The 240m2 roof terrace features a swimming pool with waterfall, an outdoor kitchen and barbecue. The views from here across Ibiza Town, Marina Ibiza, the Mediterranean and the rolling landscapes are exceptional – particularly at night. An independently-accessed apartment with bedroom, bathroom, living room and kitchen, plus staff accommodation, security system and a two-car garage complete this noteworthy home.
£7.1m / €9.5m / $10.9m
Ibiza Sotheby's International Realty +34 971 3107 99
[email protected]
Mallorca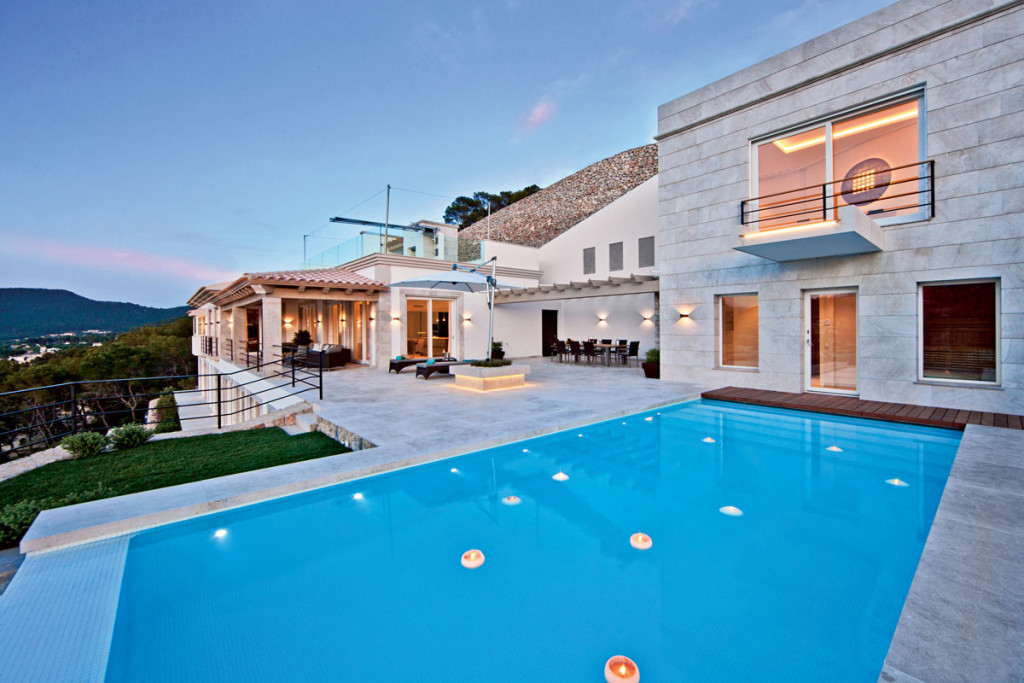 The Balearic Island of Mallorca offers a fabulous mixture of strong local traditions and the flair added to it by the international visitors and residents who spend weeks of quality time there.
Mo Henkel of 39º North 3º East, says,
"In addition to the Mediterranean climate and the savoir vivre that we are all thoroughly enjoying, Mallorca has proven over the past years to be a brilliant and safe place for investment. This fact is reflected in the increasing activities on the property market, even during the quieter winter months.
"Currently there is a big demand for generously sized traditional country houses and properties near the sea, where elegant summer residences are being created to be enjoyed with family and friends. There are many clients from Britain who benefit additionally from the very favourable exchange rate, but we also see many clients from Germany, France, Switzerland, Italy, Scandinavia and the Far East.
"Mallorca is the perfect location with its excellent flight connections, ever-improving infrastructure, rich cultural life, wide range of sporting activities and, above all, the relaxed lifestyle."
Puerto de Andratx
An attractive, new-build villa above the harbour entrance to Port Andratx with five en suite bedrooms. It also features a sauna, fitness area, separate guest house and double garage, while outside there is plenty of open and covered terrace surrounding an infinity-edge pool with marvellous sea views. The property has been built using the best materials from German-brand glazing to Italian antique marble and Viessmann climate control technology to an installed music system.
£7.3m / €9.8m / $11.2m
Mallorca Sotheby's International Realty
+34 971 674 807
[email protected]
Sierra Tramontana, Near Alaro
Built in Mediterranean style, this property is in a peaceful area and has wonderful views over the surrounding landscape and mountains. The main house provides four suites, furthermore there is a guest apartment with living room and another suite as well as a staff apartment. Other features include underfloor heating, air conditioning, a fully fitted kitchen, sauna, fitness room, private well, park-like garden with swimming pool, large pool house and summer kitchen.
£4.5m / €6m / $6.8m
Engel & Voelkers +34 971 62 16 29
[email protected]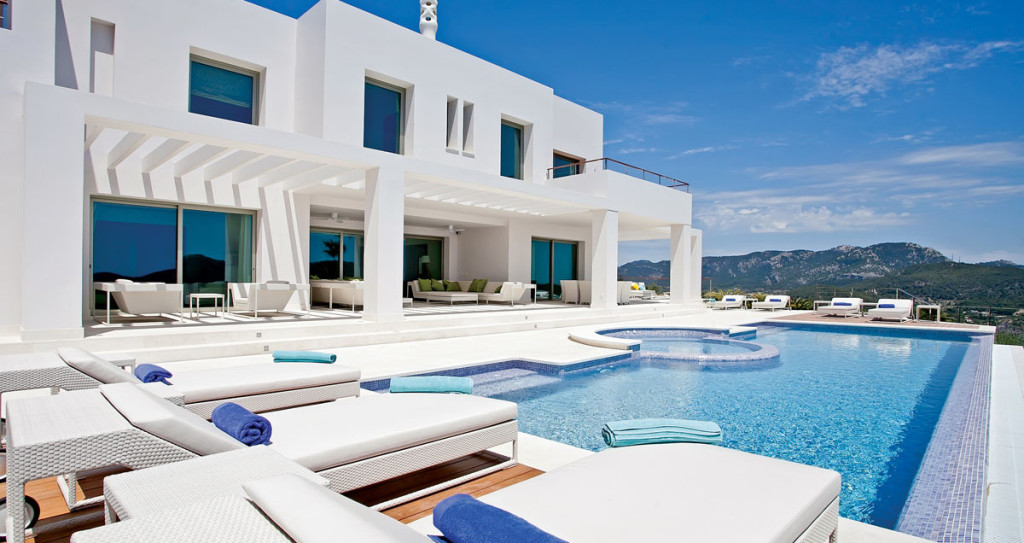 Puerto de Andratx
This impressive south-facing property has extensive views over the harbour. Built with quality materials, it includes a home cinema, large swimming pool, separate guest house, terraces, 3,000m2 of gardens and a beautiful swimming pool.
£13.8m / €17.53m / $20m
Chestertons Internacional
+44 (0)20 3040 8210
[email protected]
Cala Pregonda, Near Ciutadella
An eight-bedroom, six bathroom villa with more than 500m2 of interior living space. The property has a private chapel, solarium and an outdoor pool and, built into the cliffs surrounding the bay, has direct access to the beach and the sea.
£6.7m / €9m / $10.3m
Aylesford International +44 20 7349 9772

Menorca
The western-most island of the Balearics, Menorca is the second largest after Mallorca. Although one of the quieter islands, it has something to offer everyone including beautiful, unspoilt beaches, magnificent architecture and harbours and a wealth of outdoor activities such as golf and watersports. The island was designated a biosphere by UNESCO in 1993 to protect the environment and preserve its countryside. Due to this, an amazing variety of wild flowers and birds can be seen.
Andrew Langton, chairman, Aylesford International says,
"Whilst there is still so much uncertainty in Europe and the Euro continues to look vulnerable, the mentality of 'wait and see' prevails – in other words, there is no sense of urgency in Menorca or indeed in neighbouring Ibiza and Mallorca. Given that Menorca is such an enchanting place, we expect the market to pick up once the dust has settled in Europe."
Cala Conta
This outstanding, eco-friendly gated community of superb villas offers 24-hour security and privacy. It features the highest level of construction with fully equipped kitchens, bedrooms with en suite bathrooms, garages, pools and staff accommodations. Considered one of the 10 most spectacular bays in the entire Mediterranean, Cala Conta facing to the southwest has long been known for its spectacular sea views and sunsets.
From £1.9m / €2.5m / $2.9m – £2.6m / €3.5m / $4m
Estela Exclusive Homes +34 971 931 562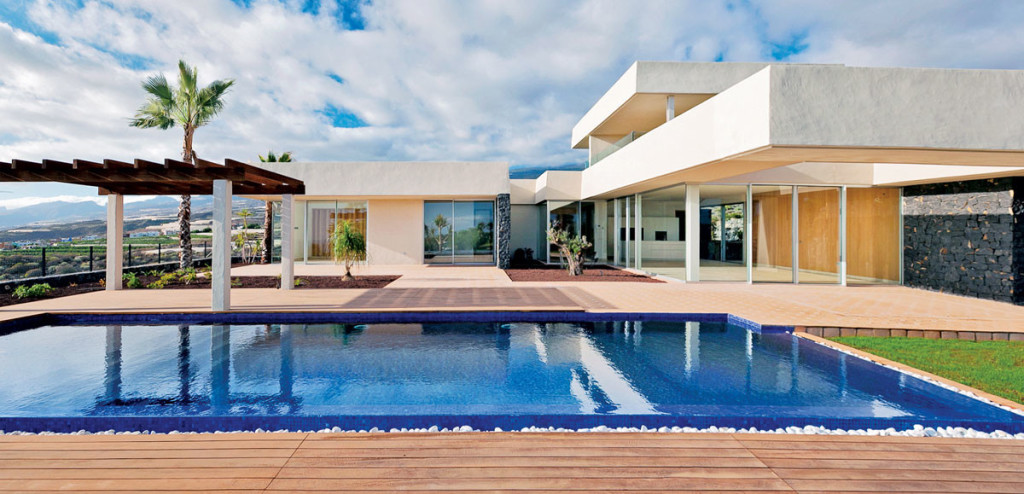 Tenerife
With an annual temperature of 18-24°C, Tenerife has one of the longest European seasons and is a popular escape for travellers throughout the year. Robert Green, general manager of Abercrombie & Kent International Estates, says,
"The Canary Islands have long been overshadowed by the glitzy Balearic islands, particularly Ibiza and Mallorca which have attracted wealthy international buyers as well as party goers. However, the Canary Islands, lie around 28 degrees Latitude and therefore enjoy a pleasant sub-tropical climate throughout the year, rarely deviating between a minimum of 18 degrees in winter and
27 degrees in summer. This makes it an ideal year-round destination.
"Tenerife has two airports making it highly accessible from across Europe; many flights non-stop and direct. It also has incredible beaches and wonderful attractions from the Teide volcano, the third largest in the world and Spain's highest mountain, to the magnificent Los Gigantes cliffs that rise from the sea to a height of 500-800 metres. There are also nine golf courses to enjoy, the best located at Abama Golf & Spa resort, a Ritz-Carlton hotel on the west coast of the island."
Abama Luxury Residences, Guía de Isora
Located in on the south-west coast of Tenerife, Abama Luxury Residences comprises a range of apartments, plots, villas and custom villas. They are within a 160 hectare estate and have access to a range of amenities including two Michelin starred restaurants, an 18 hole golf course, tennis academy, the Ritz-Carlton, Abama Hotel, a spa and golden sand beach.
Custom villas from approx £1.5m / €2m / $2.3m
Abercrombie & Kent International Estates +44 (0)20 3667 7016