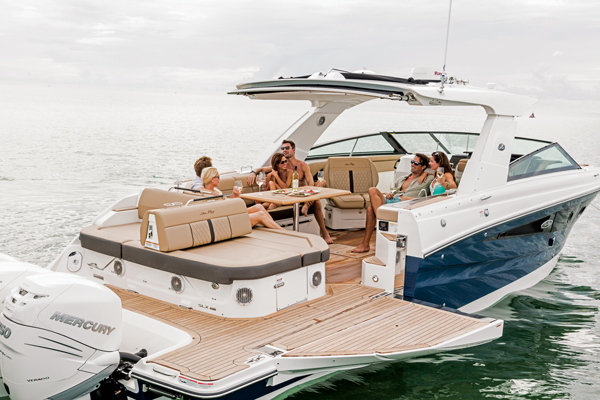 Headquartered in Knoxville, Tennessee, Sea Ray has pushed the limits of performance and craftsmanship for 60 years to elevate the boating experience. Each Sea Ray is designed to make every moment exceptional with a customised balance of comfort, performance and world-class technology throughout. With distribution in more than 80 countries around the world, Sea Ray boats can be found just about anywhere.
Steve Langlais, president of Sea Ray Boats, advises, "We've seen a change in the way consumers are using their boats, and Sea Ray is responding by designing vessels that meet not only performance needs but also feature entertainment and lifestyle amenities and spaces.
"As with choosing any vessel, it is important to consider how the boat will be used, where it will be operated and stored, and the amenities most important to you as a boater. Additional factors to evaluate include technology and connectivity requirements; entertainment and activity amenities; engine preference and configuration; and seating and sleeping capacity."
Two of the most recently designed Sea Rays are the SLX 400 and the SLX-R 350 Outboard. "As a first-of-its-kind model," explains Mr Langlais, "the SLX-R features elevated design elements and innovative technologies now paired with the unmatched power and performance of Mercury Racing 450R dual engines. In addition to the new Mercury Racing 450R engines, SLX-R technology highlights include an exclusive helm display, state-of-the-art systems and a premier marine audio system with a full-size screen for the ultimate in technologically advanced sound."
Enhancing the SLX 350 aesthetic, the SLX-R showcases upscale design elements and details including premium carbon fibre accents on the boat's hardtop arch, special-edition Shadow metallic gel paint, superior quality upholstery with contrast stitching, red underwater lighting and red accent lighting throughout the vessel. The interior Port Hideaway offers a relaxing area with plush seating, a TV and air-conditioning.
The SLX 400, 'The Entertainer', is yacht-certified, and its best-in-class layout has seating for 22 passengers and an abundance of storage space. Fit and finish are superior, with premium upholstery and a purity of line and form. Below deck, a generous cabin creates a comfortable space to escape the elements, relax or spend the night.
One of the most notable features on the SLX 400 Outboard is the fold-down swim terrace, a brilliantly designed wing of the hull on the starboard side that opens 90 degrees to expand the cockpit all the way to the water. A plush sun pad extends the width of the transom and features a converting backrest that opens to face the swim terrace. The bow offers ample seating and a sunshade. As for technology, highlights include Mercury's Joystick Piloting, an advanced digital dash helm offering dual 16-inch touchscreen displays with digital switching.
SLX-R 350 from £400,935 / €450,230 / $499,752
SLX 400 from £513,370 / €576,515 / $639,900