Sun, sea, sand and scenery are all things which rate highly on most people's holiday and indeed second home checklists. Greece, where 80 per cent of the country consists of mountains and hills with 16,000 kilometres of coastline, fulfils all these requirements. It has around 6,000 islands and islets in the Aegean and Ionian Sea, most of them grouped in clusters, that constitute the Greek archipelago.
Yannis Ploumis-Sotiropoulos, managing director of Ploumis Sotiropoulos Real Estate, affiliate of Christie's International Real Estate, says,
"Greece provides an easy life style and the weather is mild all year round. Buyers tend to be are foreigners who want to be close to the city centre and at the same time enjoy the sea and the good weather. Prices for apartments vary according to location and year of construction and can be between €5,000 and €20,000 per square metre. Villas are hard to find and can go as high as €30 million or €40 million."
Island idyll
Crete is one of the top tourist destinations in Greece and hosts about one third of the country's annual visitors. The Greek tourism industry has been reaching new records every year since 2015. In 2016 international arrivals exceeded 27 million and a new record is expected for 2017.
These trends are also followed in the second home sector. Danae Tsakiris, associate director of Savills Athens, says,
"Buyers predominantly come from the traditional markets (Germany, UK, Scandinavia, Switzerland, France) and Eastern European markets (mainly Russia, but less after 2014) and less from China. New demand is emerging from the Gulf countries, Turkey and Israel."
The primary reason for purchase is for a holiday or retirement home and some buyers also choose to rent the property seasonally.
"This type of buyer is constantly increasing as the annual rental income they can generate covers the maintenance and all other annual costs of the house offering at the same time a fair net income,"
explains Ms Tsakiris.
"A yield of 3 – 5% on net profit (pre-tax) could be considered sufficient for second homes in Greece."
Crete's second home market is essentially focused in the areas of Chania and Elounda (Agios Nikolaos).
"Elounda specifically is historically considered a luxury destination both for tourists and buyers; a trend starting with the Greek tourism in the 1980s,"
says Ms Tsakiris.
"Limited available quality stock has now resulted in high investment yields, which in Elounda averages at 6% providing an appealing balance between purchase price and rental value. The main core of available properties has prices between €1 – €3 million which equates to €4,000 – €7,000 per square metre. However, there are top-end properties reaching levels of €10 million, with the price per square metre around €12,500."
Citizenship in Cyprus
Ideally located at the crossroads of three continents – Europe, Asia and Africa – Cyprus is a small island with a long history and a rich culture that spans 10,000 years. This makes it one of the oldest civilisations in the Mediterranean with a host of museums, monuments and galleries to visit.
Aphrodite Hills, an award-winning, five-star resort in the hills above Paphos, provides a solution for those looking to become citizens of a European Union country. Through purchase of one of its apartments or villas, the Cypriot government is offering 'citizenship by investment', a scheme providing EU citizenship within six months of the purchase of real estate in Cyprus. Ideal for permanent residence or as a holiday home abroad, all properties on-site are available for sale freehold. Under the citizenship scheme successful applicants can freely work, establish businesses, live and travel throughout Europe provided the property purchased is of at least €2 million in value.
Amanzoe Villas, Porto Heli, Greece 
On the hilltops of Porto Heli in the heart of the Peloponnese, this recently launched, limited collection of premium two-bedroom villas is designed to maximise the sweeping views of the Argo-Saronic Gulf and surrounding countryside.
Part of the Porto Heli Collection and overseen by leading global investors, Dolphin Capital, the Amanzoe Villas are the first Aman residences in Europe. With villas fully serviced by the nearby Amanzoe hotel, residents have exclusive access to the Beach Club and its amenities including a high-end restaurant, two spa and gym rooms, a children's pool, games room and a tennis court.
From £2.9m / €3.2m / $3.83m
Amanzoe Villas
www.amanvillasph.com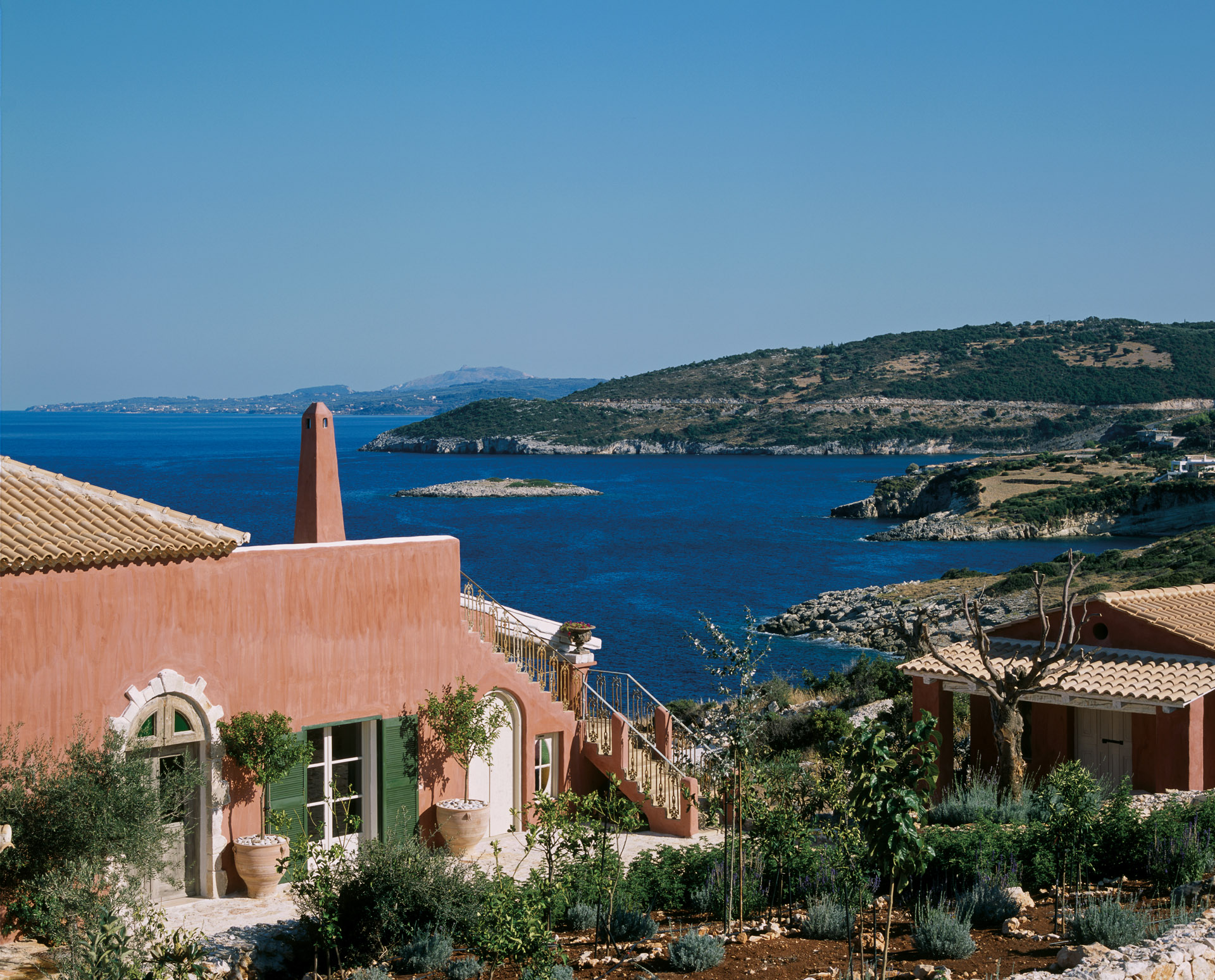 Kapari Bay Villas, Zakynthos, Greece
Family home in a seafront position with an uninterrupted 180-degree panoramic view of the sea and to the distant islands of Cephalonia and Ithaca. The property has been lovingly created by an English family over the past eight years and is now acknowledged to be one of the island's best. Its 24,000m² plot comprises the principal house 'Myrtia' with six en suite double bedrooms; an entirely separate villa, 'Jacaranda', with plunge pool, and three en suite double bedrooms; and a separate one-bedroom house, 'The Sea Folly'. There is also a staff house with three en suite double rooms, a laundry house and a massage room away from the main living area. A swimming pool in front of the house is just a few metres from the sea.
£3.45m / €3.8m / $4.55m Aylesford International
 www.aylesford.com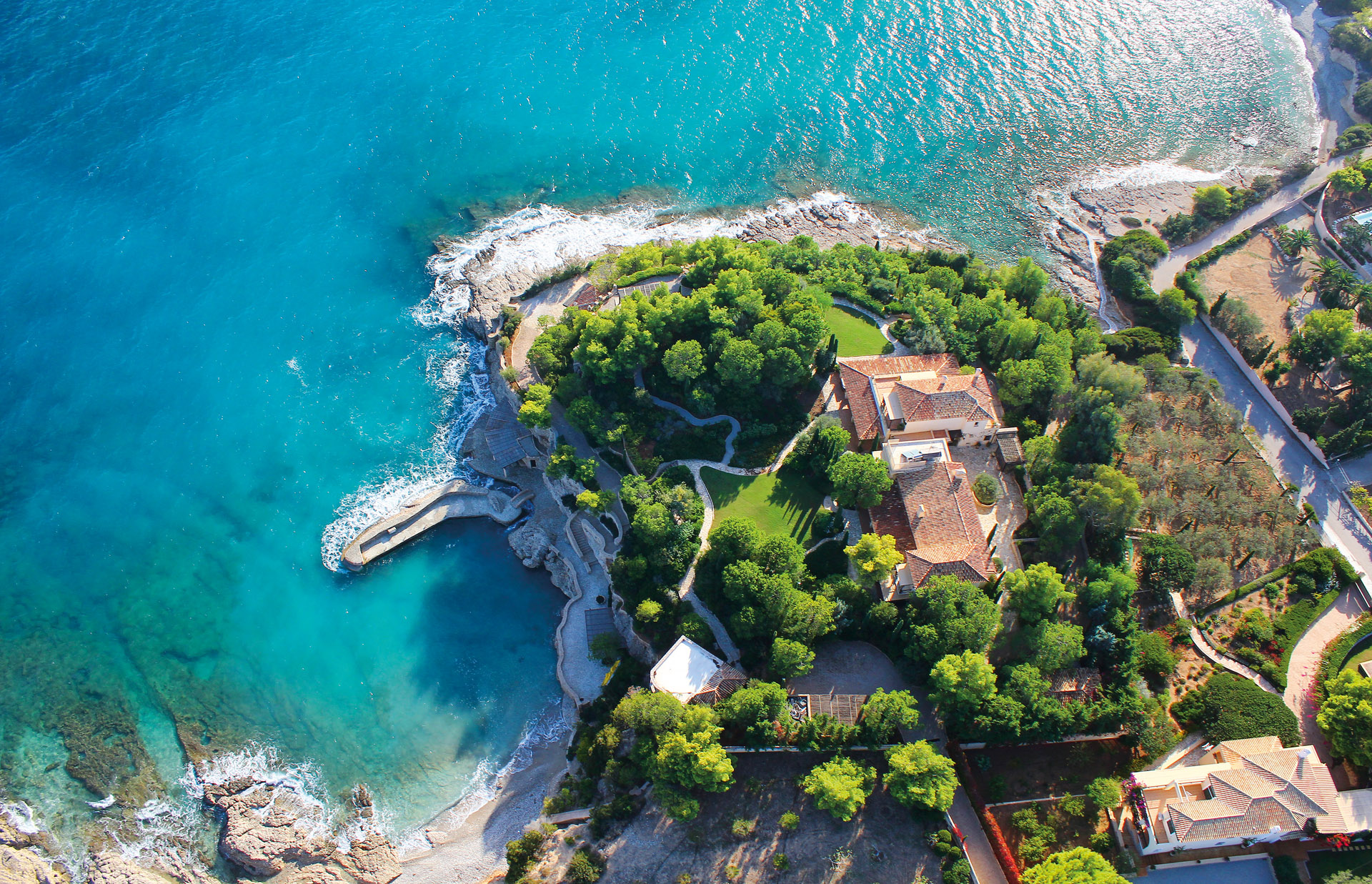 Porto Heli, Greece
Beautiful villa at the entrance of Porto Heli bay on one of the most stunning coasts of Peloponnese with a private beach and its own dock. It is accessed along a private gated drive that leads to a 5,500m² garden, swimming pool with panoramic sea view, large shady pergola with dining and sitting room, stone barbecue and parking for several cars.
The 750m² villa is built on five levels with an orientation to beautiful sunsets and shade during the heat of the day. Decorated in a contemporary interior design with classical pieces, elegant furniture and newly renovated bathrooms, it includes two spacious master bedrooms with sea views and private verandas, as well as six further bedrooms. Leisure facilities include a home cinema room, mini gym and sauna in the lower level.
£7.72m / €8.5m / $10.17m
Aylesford International
www.aylesford.com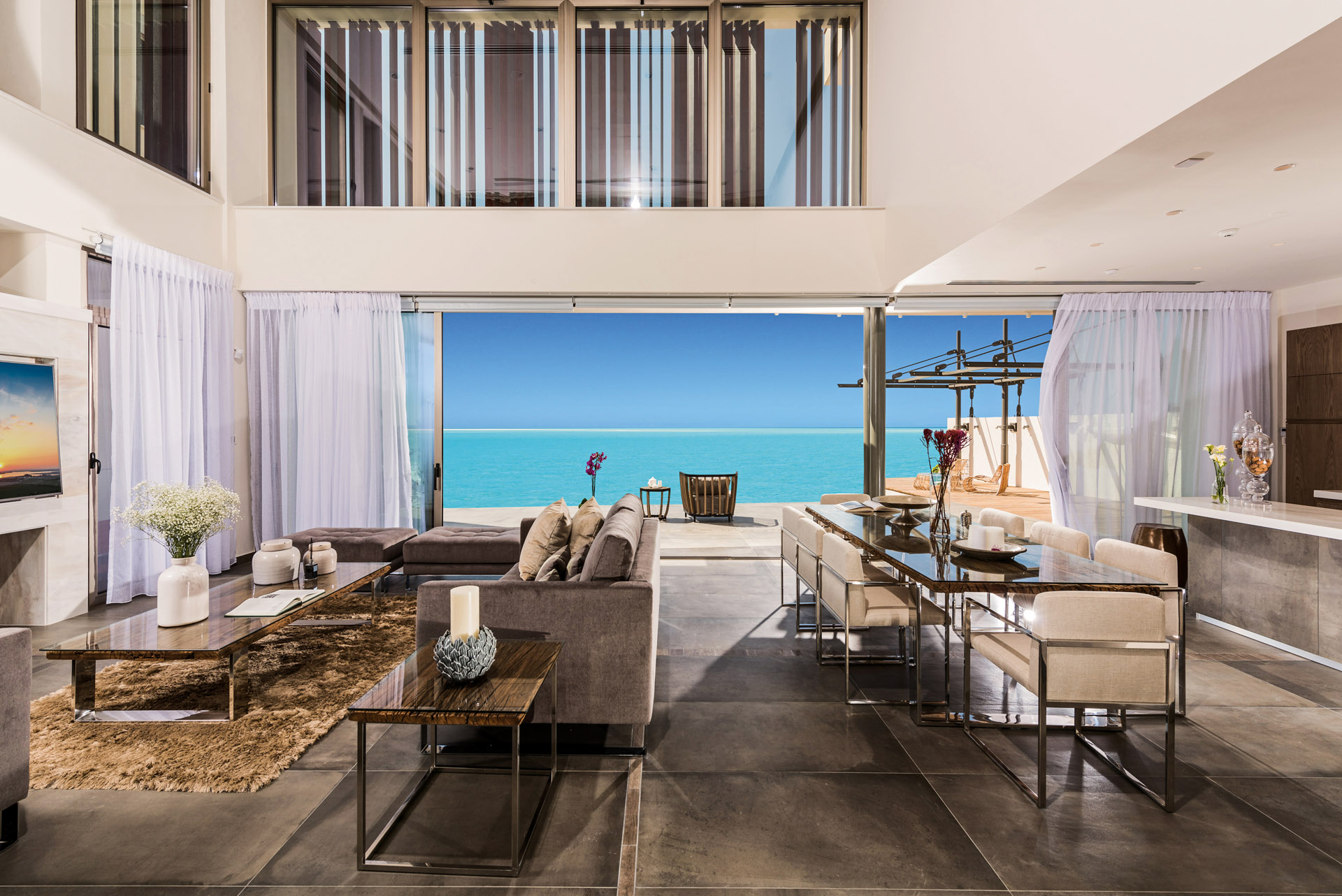 Adonis Beach Villas, Paphos, Cyprus
Based on the success of the Leptos Apollo Beach Villas, these homes are carefully sited so residents can enjoy breathtaking views of the Mediterranean Sea. The villas are built to the highest standards featuring private pools, landscaped gardens, barbecue areas, large verandas with outdoor living areas, modern architectural designs with the latest technology, quality finishes and spacious parking spaces.
From £814,260 / €905,000 / $1.078m – £3.33m / €3.7m / $4.41m +VAT
Leptos Estates
www.leptosestates.com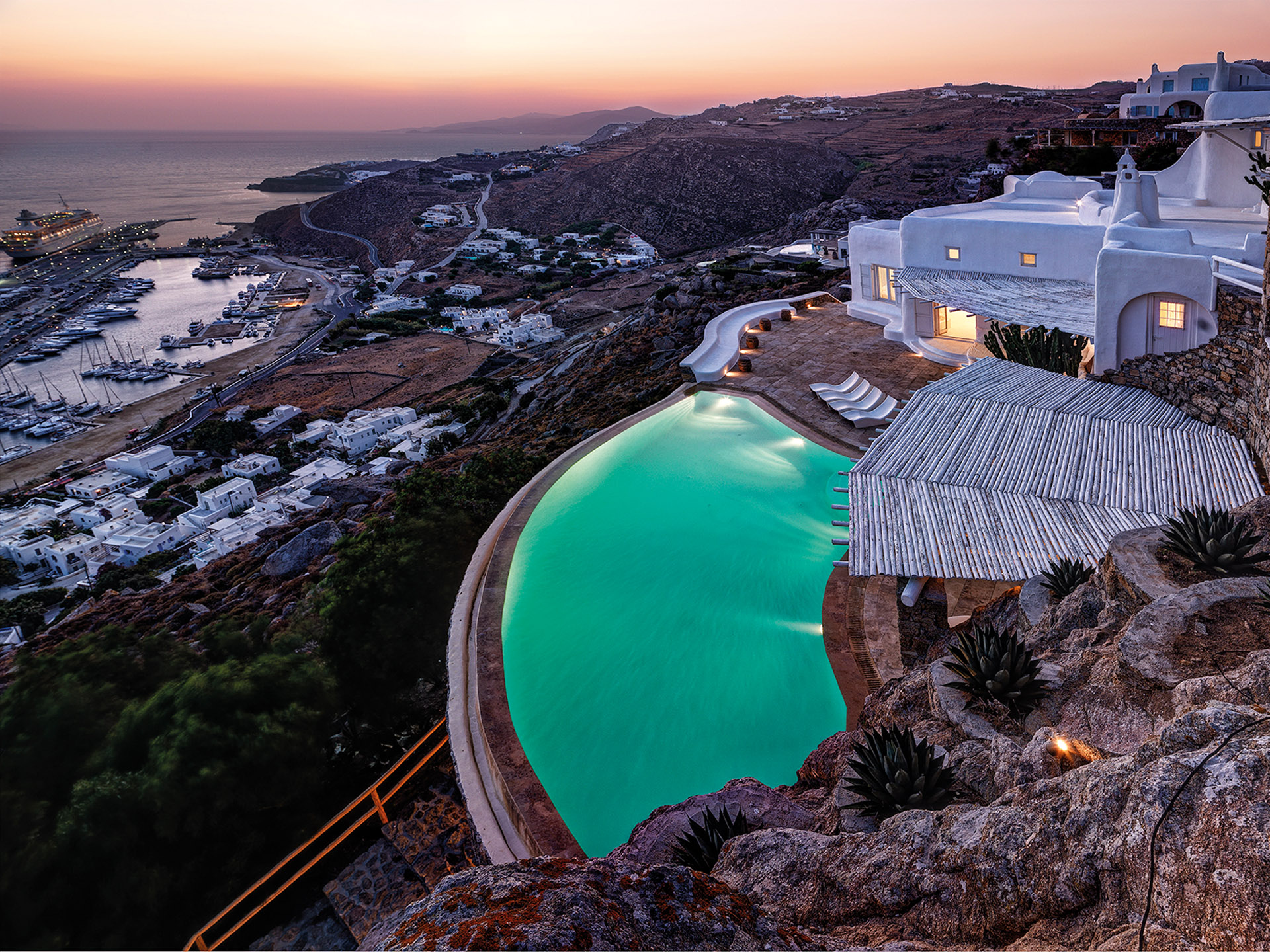 Sky Crest, Mykonos, Greece
Stunning residence on a cliff above the new port of Mykonos. It has panoramic views of the town with its famous windmills, the Aegean Sea including the sacred island of Delos, and gorgeous sunsets.
Impeccably designed and decorated, the 650m² villa with two master suites has a sophisticated, minimal style. The expansive living room includes built-in sitting areas and several windows that take full advantage of the light and views. A few steps lead up to the dining area with a fireplace and on to the fully-equipped kitchen. Special features include exposed rock formations, thick wood-beam ceilings and arches.
In the garden, there are four stone-built independent guest suites. A horizon swimming pool merges with the seascape and overlooks the town while broad stone-paved terraces, fan-shaped pergolas and a covered dining area prove ideal for summer entertaining.
£4.1m / €4.5m / $5.4m
Christies International Real Estate
www.christiesrealestate.com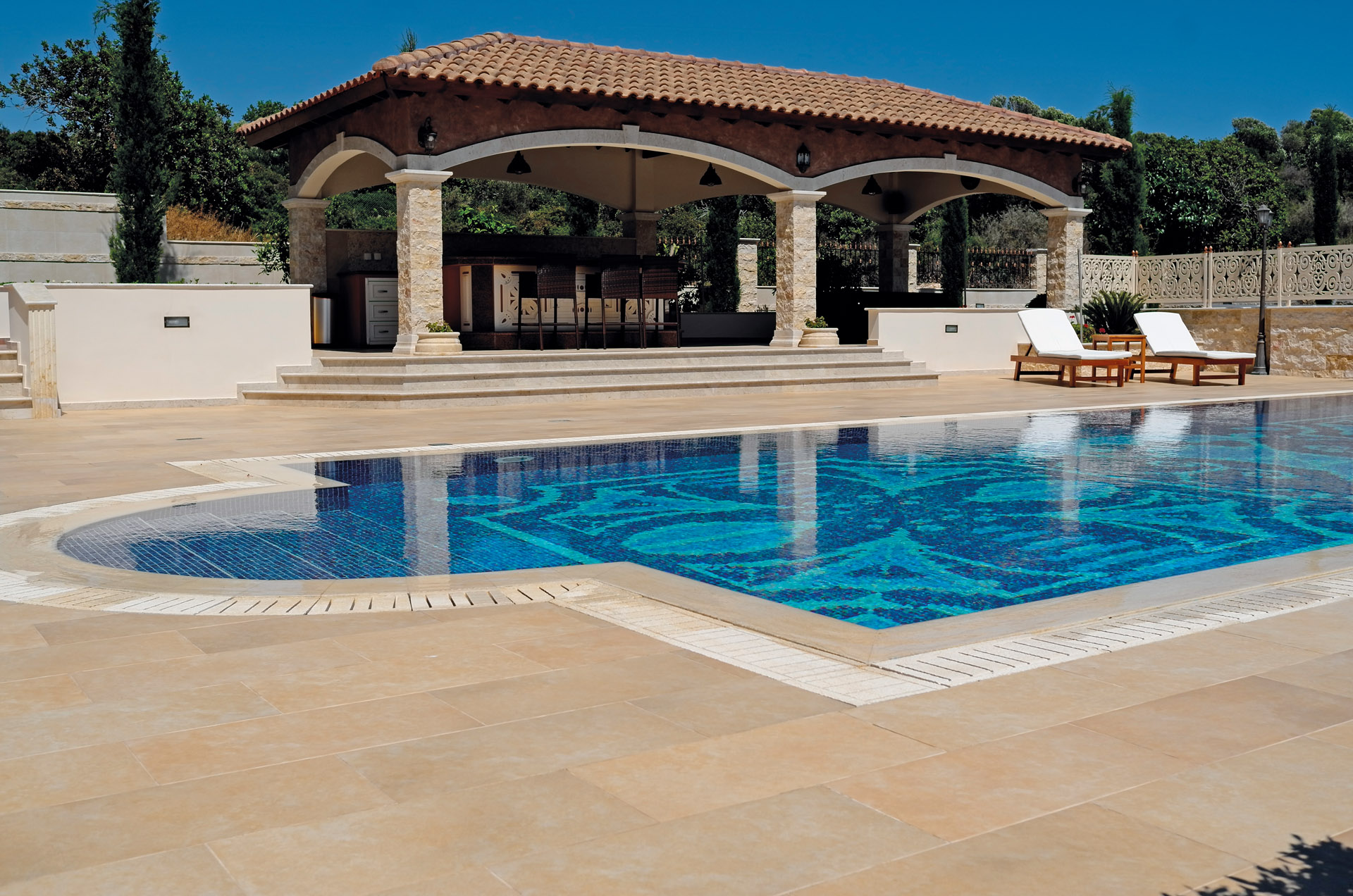 Persefonis, Aphrodite Hills, Cyprus
Built in 2016, this villa is on one of the highest points of Aphrodite Hills on the Eastern Plateau, offering unparalleled privacy with amazing views over the Mediterranean Sea. It has been built to a very high standard and specification and exclusively furnished and decorated by various high-end Italian companies.
The villa includes six bedrooms, six bathrooms, two living/dining areas, two Italian designed kitchens and a large office. It also has large terraces as well as a spacious outdoor living/dining area which includes a fully fitted kitchen and bar with surround sound and a large infinity pool. The property's garage can hold up to four cars with additional parking for many cars externally.
£4.99m / €5.5m / $6.58m
Aphrodite Hills
www.aphroditehills.com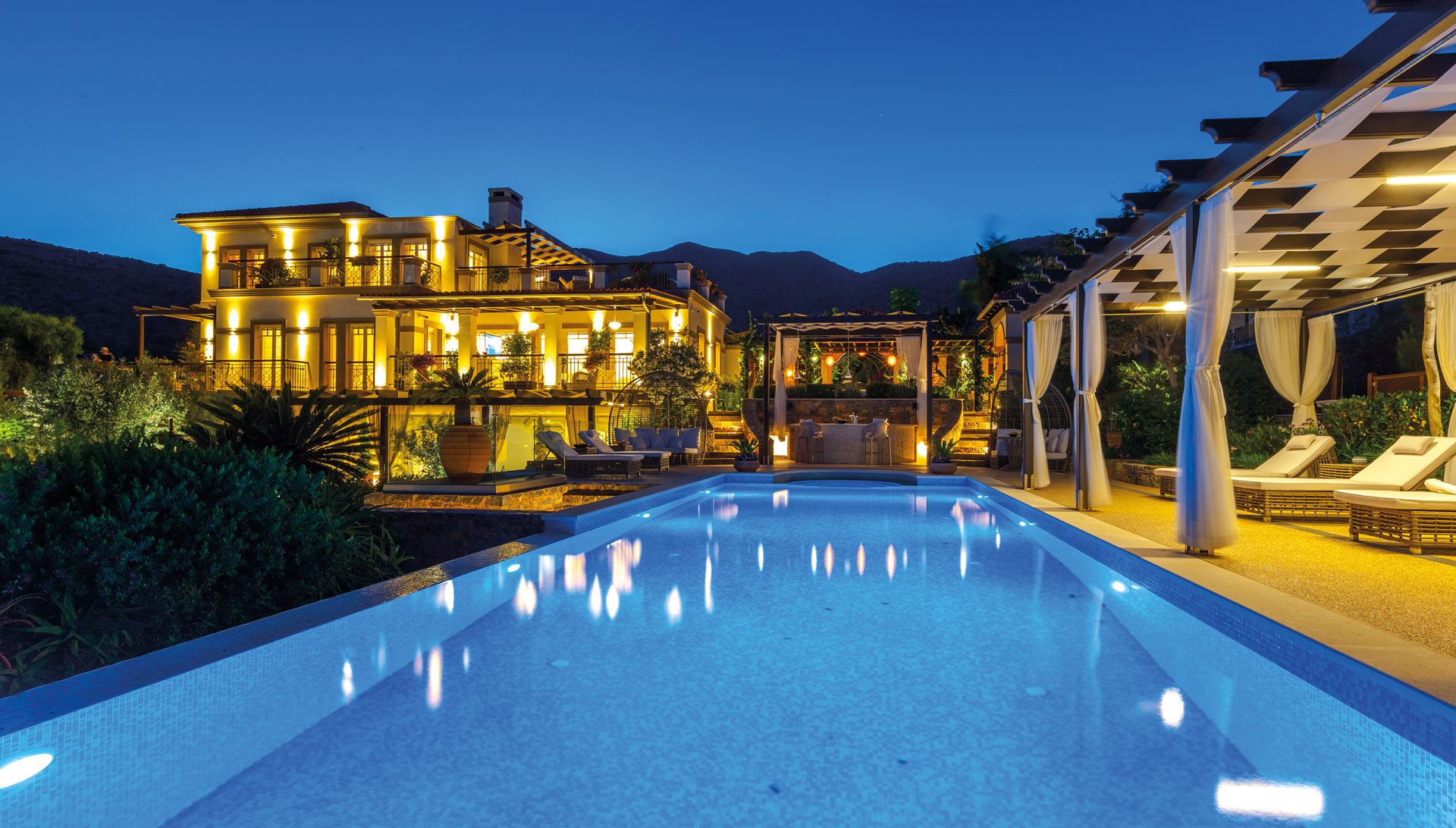 Elounda, Crete
This magnificent villa on a private beach includes a jetty for a yacht to come alongside. The owner will enjoy access to all the facilities offered by the nearby 5-star hotel which can also offer full service. There is also possibility of income with management by the development company.
The fully furnished villa has a large and exclusively designed living room, a dining area and an independent kitchen. The central part of the house leads to the six elegant bedrooms, all with sea views, and en suite bathrooms. The large terrace offers extraordinary panoramic views, around the Gulf of Mirabello, while the outdoor kitchen, large dining area and heated swimming pool are perfect for entertaining.
£9.5m / €10.5m / $12.6m
Savills Athens +30 210 6996 311
[email protected]
www.savills.gr