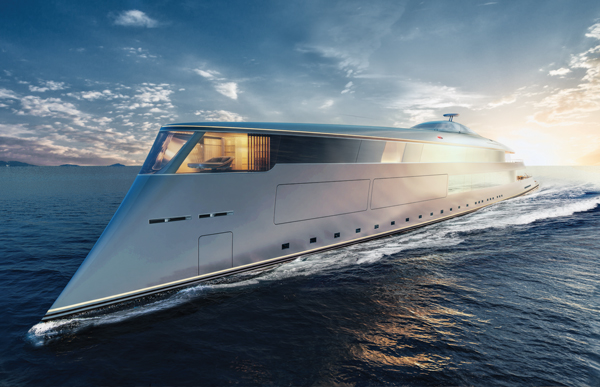 Superyachts for the super-rich make taking to the high seas an adventurists' dream, with modern design and engineering that affords every home comfort.
Sinot, a Dutch yacht-design company, has unveiled a detailed model of what would be the world's first hydrogen-powered superyacht, called AQUA, with engines that emit only water.
Sander Sinot, designer and owner of the firm says, "Using electric propulsion creates very little noise or vibrations." The first design details of the 367-foot vessel were unveiled with a scale model of the superyacht at this year's Monaco Yacht Show.
As you would expect of a ship of these proportions, the interior build is spacious and beautifully designed. The beam-wide owner's pavilion occupies the front half of the upper deck, and includes a large bathroom, dressing room and a private spa section.
On the beach deck are the ships' VIP state rooms, which are equally spacious, outfitted in a minimalist Japanese beach-style.
Both at the starboard and port sides, floor-to-ceiling band windows create a vast viewing gallery. The ceiling ranges between 280cm to 380cm at the large central skylight, supported by a specially designed wooden structure, with the bedroom section located at the yacht's axis.
The fully equipped spa includes hydro massage room, yoga space and workout floor and a gym-wide hatch that opens to reveal the ocean's surface at water level. The ship's central feature is a circular staircase, running from top to lower deck.
Situated on the bow is an observatory for seascape viewing, whilst the hull with raised front profile is angular and streamlined for cutting through the waves. Finally, the ship's five-deck set up descends towards the sea, leading to a large swimming platform to the sea level.