A visit to Barbados never fails to leave a lasting impression on the mind, let alone the soul. It's little wonder then that a steadily increasing amount of people from different countries are opting to invest in property along its shores. Charles Forbes of Knight Frank says,
"The makeup of Barbados' buying interest has seen it become somewhat diversified over the past 12 months. A usually strong contingent of British and Canadian buyers have seen their loyal clasp of the market slightly dilute due to fresh interest of the occasional Asian buyer, along with other interested parties from other European destinations such as Switzerland, Germany and France.
"Most, if not all of Barbados' prime property focuses on the West Coast, also venturing inland to Royal Westmoreland and Apes Hill. The Sandy Lane Estate remains one of the most luxurious home owning destinations in the Caribbean, with prime waterfront property demanding prices to match its quality."
Mr Forbes reports that the currency impact of Brexit on the Sterling/Dollar exchange rate has seen reduced interest from UK-based buyers, however he is confident that this a short-term impact with sentiment in the market set to improve in the coming months.
"For British owners on the island however,"
he explains,
"Sterling to Dollar exchange rates has brought a positive, and most welcomed change. With transactions processed in local currency (US$), vendors have become more willing to listen to offers previously thought inexcusable which has somewhat stimulated the market. Sales growth is expected to steadily rise for the 2016-17 season as Barbados continues to attract global investors enticed by its year-round sun, sea, stability and security."
Charlie Smith, managing partner at Prime New Developments, has found that the Bajan property market has remained buoyant despite Brexit.
"In fact, sales have actually increased since June across all price points. Properties currently on the market are more negotiable in most cases. This is partly due to the committed vendors coupled with the consistently strong demand to own a holiday home in Barbados; both of these factors have been a good catalyst for increasing sales. In addition, ultra-high net worth individuals are increasingly interested in acquiring the very best real estate around the world, given the continued uncertainly and volatility in some foreign exchange, commodities and share prices."
If you're thinking of renting rather than buying, Blue Sky Luxury has a portfolio of over 120 high-end villas and apartments and over 30 years of experience on-island. The company's rental expert Kathy Burke says,
"The villa rental market in Barbados is seeing steady growth. Not only from the perspective of new homes entering the market and being offered for holiday rental, but also from the guest experience.
"We have seen an upward trend year on year for the last two to three years for guests looking for a more bespoke holiday experience with all the privacy, special services and personalisation a luxury villa holiday offers. Having a holiday 'just the way I want it' is testament to why villa vacations are growing in popularity; especially for multi-generational families or groups where the value for money factor also make a villa, a more attractive accommodation option."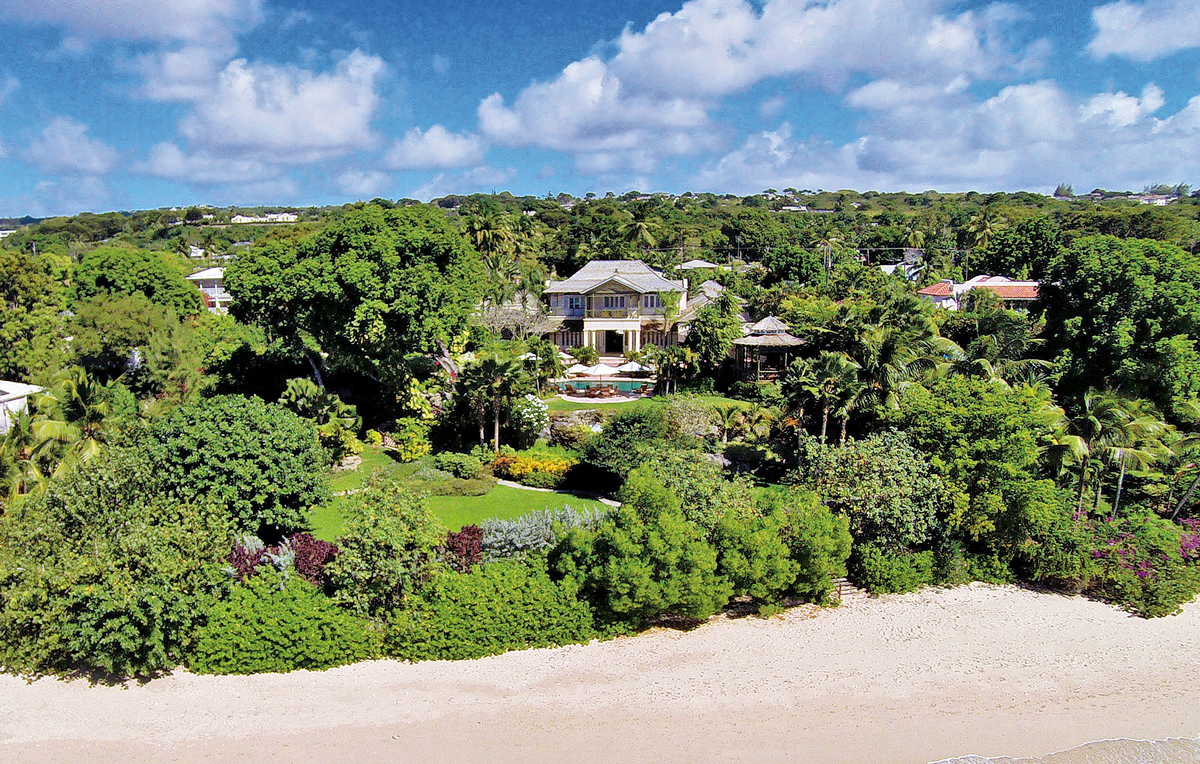 Holetown, St James
Gardenia is an exceptional property in a highly sought after beachfront position. It offers large, open-plan reception rooms that take full advantage of the sea views. Very private and securely positioned centrally within beautifully colourful and lush gardens and grounds, Gardenia represents a truly rare opportunity to acquire such a magnificent beachfront property.
£27m / €31.1m / $35m
Knight Frank
www.knightfrank.co.uk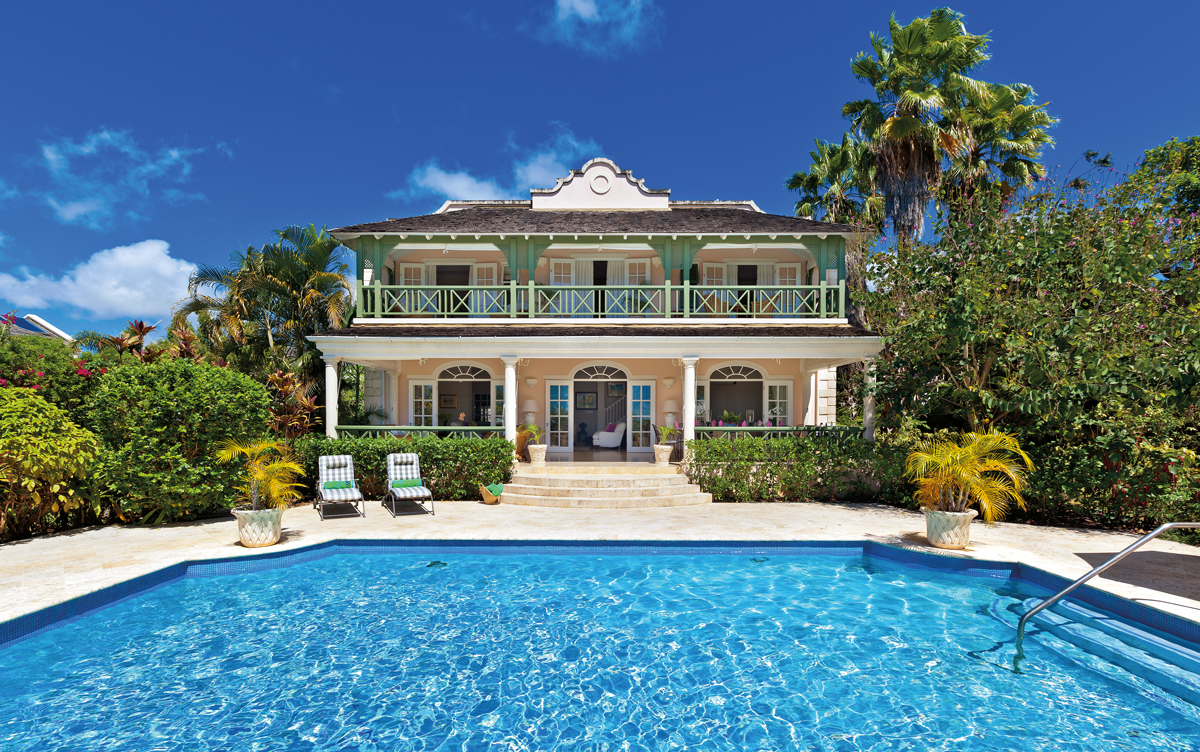 Sugar Hill Resort, St James
Amid private gardens and exotic fruit trees, Firefly has stunning views over the landscaped hillside and Caribbean Sea. The five double en suite bedroom home includes a large central reception room leading out to an expansive covered terrace, overlooking the full size swimming pool. There is also a designer kitchen, media room, separate laundry, staff room and service entrance. A separate one-bedroom guest cottage with an en suite bathroom, kitchenette and private terrace is located in the garden.
£3.05m / €3.5m / $3.95m
Knight Frank
www.knightfrank.co.uk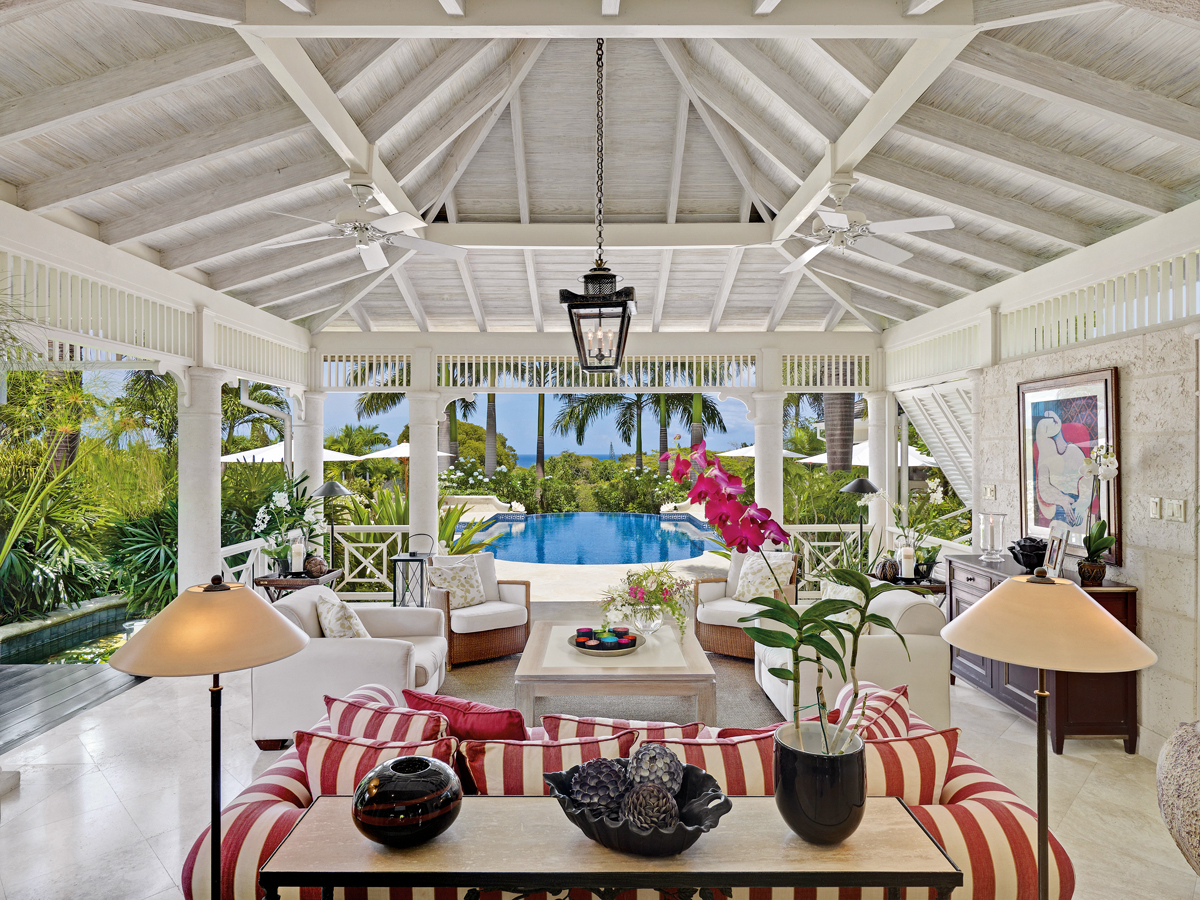 Coco de Mer, Sandy Lane
Completed in 2006, this home was designed by Michael Gomes and built to exacting specifications. The main reception room opens to a covered veranda which overlooks the infinity-edged swimming pool and is connected to the dining room by a bridge over a koi pond. There are two guest bedrooms with en suite bathrooms and a TV room on this level. The custom-designed kitchen is fully equipped and provides an informal dining area with views out to the gardens. A fourth bedroom is located in the pool house which provides an additional dining option. This house is fully equipped with staff quarters and a large storage room that can be converted into a gym or media room. An adjoining residential lot, approximately 1.33 acres in size, may also be available by negotiation.
£7.3m / €8.4m / $9.5m
Knight Frank
www.knightfrank.co.uk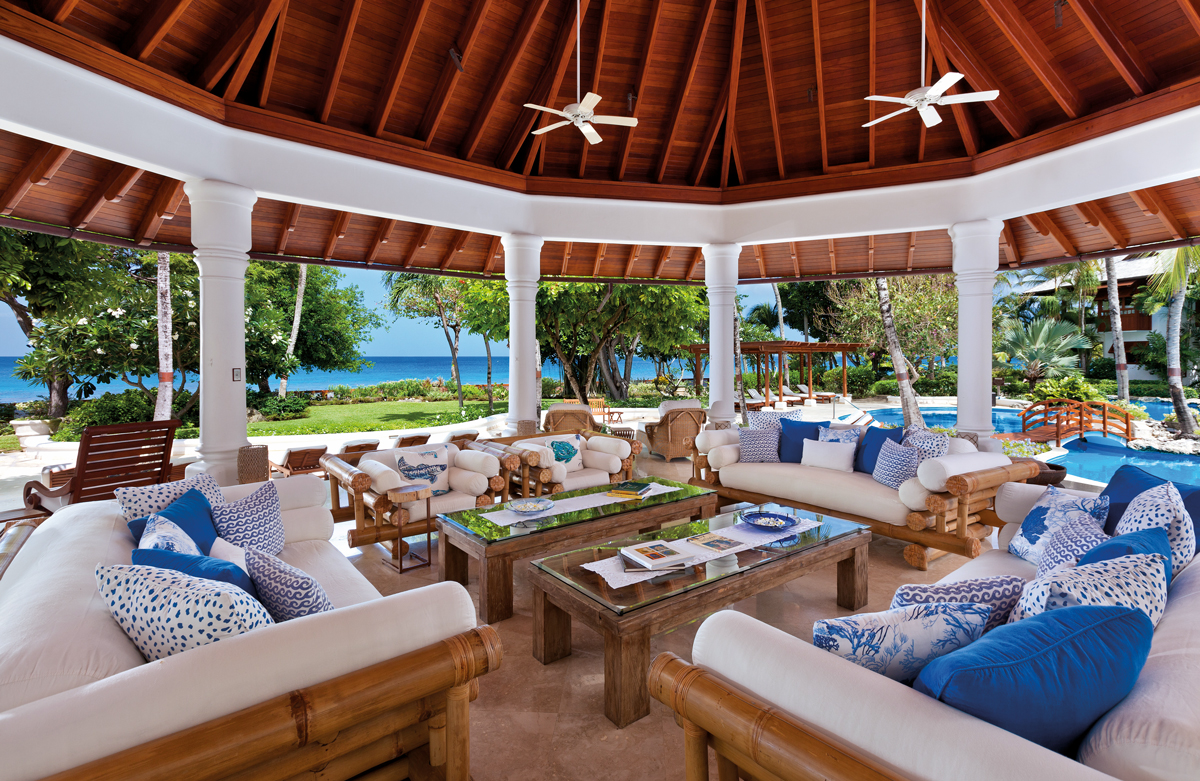 Greensleeves, Platinum Coast
Covering 11-acres, Greensleeves has direct access to two pristine beaches. This exclusive holiday villa comprises nine spacious en suite bedrooms, each with their own terrace, some of which look out to the Caribbean Sea. With a special two-bedroom children's wing and nanny accommodation, it is a perfect option for large families or groups of up to 30 members. Guests have access to tennis courts and water sports equipment as well as a free-form pool with its own coconut tree-lined mini island and swim-up bar. As the sun sets, they may head to the in-house cinema to wind down. A private chef will cook sumptuous meals for guests or they may choose to explore the island's many culinary hotspots. Greensleeves' staff and concierge service will provide excellent recommendations for a memorable stay in Barbados, beginning right from the moment of arrival. From
£5,780 / €6,680 / $7,500 per night
Blue Sky Luxury
www.blueskyluxury.com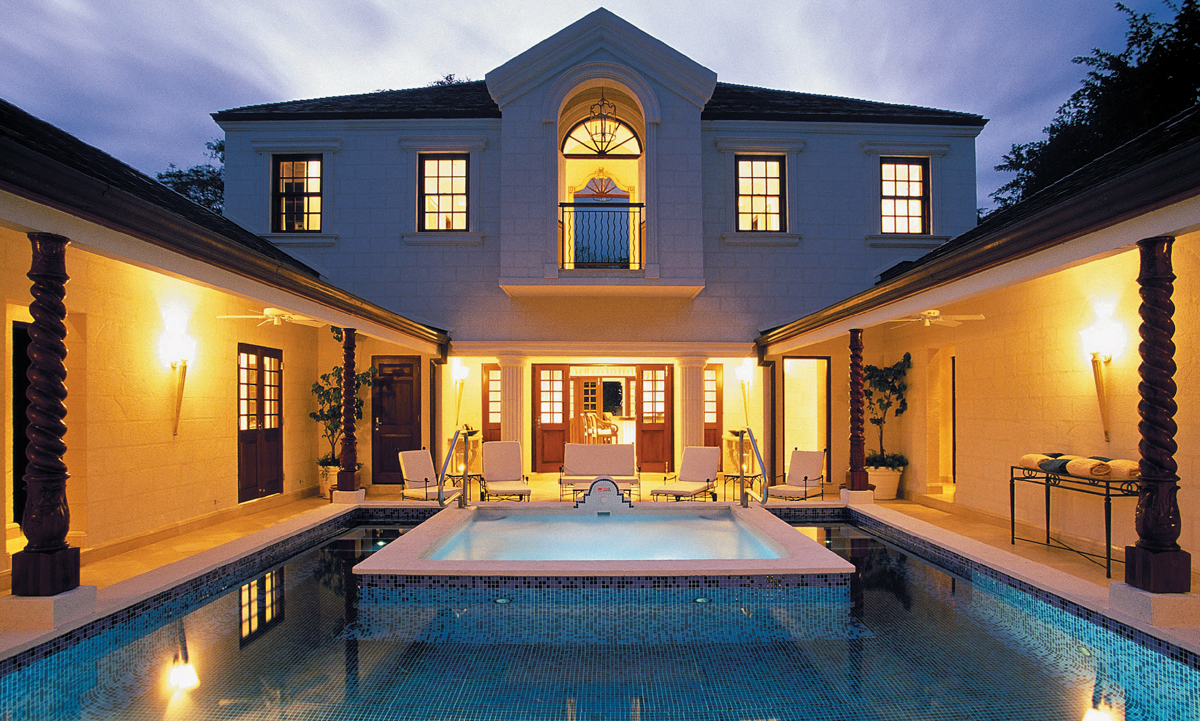 One Sandy Lane, St James
From the moment of its conception, the creation of One Sandy Lane has been undertaken with a rare determination to achieve the pinnacle of excellence in every aspect of its completion. The team that fashioned this five-bedroom property has paid spectacular attention to detail and utilised the very finest materials from around the world, along with exclusive designs and custom-made architectural features.
From £14.7m / €16.9m / $19m
Prime New Developments
www.primenewdevelopments.com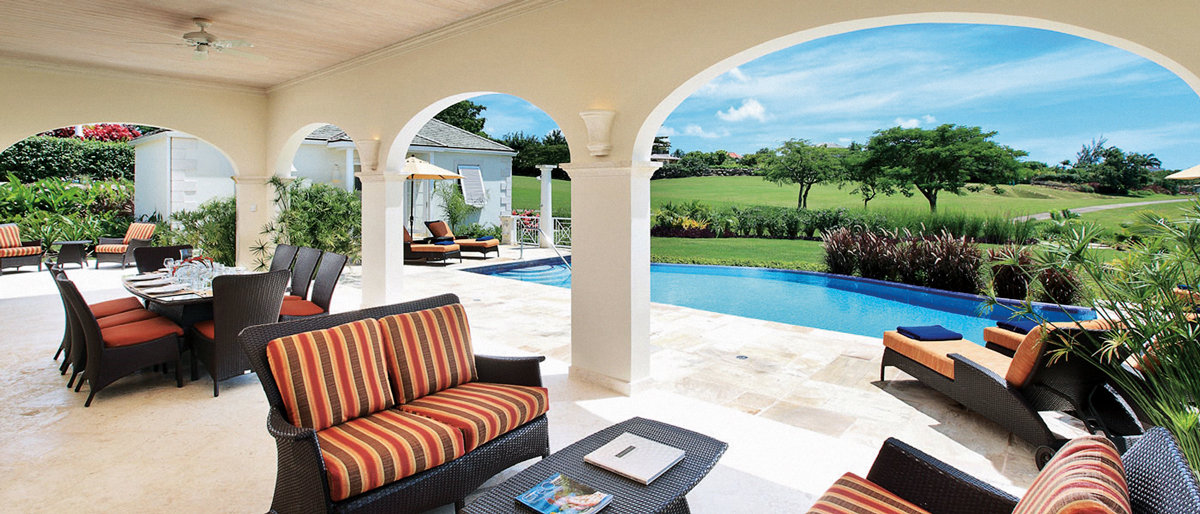 Royal Westmoreland, St James
Constructed with local materials, these custom-built villas will be very spacious, airy and fully air-conditioned. Owners can take advantage of the resort's amenities which include a championship golf course designed by Robert Trent Jones Junior, tennis centre, sanctuary pool or and state-of-the-art gym. There are five different bespoke villas to choose from: Angelica – a modern, four-bedroom design, with the option of an additional, detached two-bedroom cottage; Callisia – a traditional design, four-bedroom home; Lantana – a symmetrical design in traditional style with two master suites and two guest bedrooms; Rohan – huge and traditionally designed, with seven bedrooms; and finally, Royal Palm – a single-storey contemporary design with four bedrooms.
From £1.04m / €1.2m / $1.35m – £2.44m / €2.8m / $3.16m
Spot Blue International Property
www.internationalpropertyforsale.com