When it comes to yacht charters, no two clients have the same requirements. What's more, as they are fully customised, there are no hard and fast itineraries as on a cruise ship holiday. First and foremost, Burgess listens to each client's ideas for their voyage in order to understand their exact needs.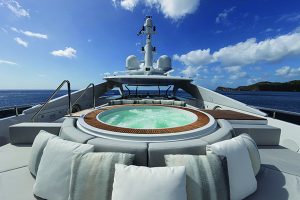 The company can then match its knowledge of the available yachts ranging from 35 metres up to the very largest of 100 metres and over to ensure all expectations are met. Burgess covers worldwide destinations but principally the Mediterranean, Caribbean, Bahamas, South Pacific, Indian Ocean and South-East Asia.
The minimum duration for a charter is one week and once a super yacht has been selected and a destination established, Burgess will work with the crew, fine-tuning all preparations and finding ways in which the trip can be made exceptional. All yachts offered for charter come complete with a full, professional crew. This includes a captain, chef and operational crew, while larger yachts will also offer include a sous chef, personal trainer and dive instructor.