With today's state-of-the-art designs, there's no reason why your floating abode should be any less comfortable than your residence on dry land.
Buying a boat is very much like choosing a property, there are many things to take into consideration before making a final decision. Jim Dixon, Winch Design's Director of Yachts and Aviation, advises that, first and foremost, it is most important to think of the function of the superyacht. "Due to today's technological advancements, they can be anything you choose them to be," he says. "We consider design from a 360-degree perspective."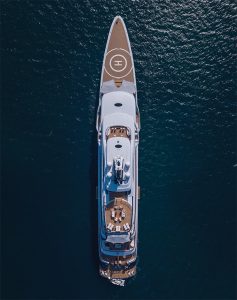 Established in 1986 by Andrew Winch and his wife Jane, Winch Design has grown to be an award-winning multi-disciplinary design studio. Beginning its design journey with a 36-foot sailing boat, the company has now designed and delivered some of the world's most iconic superyachts, private jets and residences. Today, the team comprises of over 100 designers, naval architects, 3D visualizers, merchandisers and support staff.
Winch Design holds a number of awards and records having designed and delivered the largest yacht in the world by volume, the biggest private residence in London as well as the largest private jet to hit the skies.
"This summer we have three yachts delivering, each of entirely different character to one another and each one industry leading in its own right," explains Mr Dixon. "The iconic 80m M/Y Excellence features a striking and angular American Eagle bow and her silhouette is more synonymous with that of a spaceship rather than the typical superyacht. The 111m M/Y Tis is an unequivocally elegant superyacht; her palatial interiors taking inspiration from iconic residences around the globe. Last but not least, the 67m M/Y Aurora Borealis takes inspiration from nature and the surrounding skies."
He says that the superyachting landscape is unrecognisable from 10 years ago as the fleet is larger, more capable and more luxurious. Curved interior corridors and spaces are taking the place of long corridors with adjoining cabins. Typically, dark, high gloss wood has been used on the interior of yachts, however now you can expect to see a huge diversity of materials on board, including rare marbles, agates and aluminium.
"Clients now expect their home at sea to be able to function in the same way as their home on land," continues Mr Dixon, "they expect a synergy and flow between the two and are more ambitious when dreaming up their design. Some of our clients are no longer content with simply mooring up in the most beautiful parts of the Mediterranean, but want their superyachts to be robust, explorer type yachts, with hulls capable of cruising through ice, a higher crew capacity to facilitate extended periods of time at sea, and the capability to house the most adventurous of exploration toys such as helicopters, tenders
and submarines."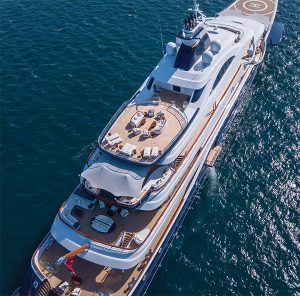 Finally, and most importantly, Mr Dixon highlights the recognition and investment being put into ecologically viable and sustainable methods of yacht production and propulsion. "Our designers are seeing a resurgence in the interest of luxury sailing yachts which produce no carbon emissions when under sail. The future of superyachting lies in hydrogen fuel cell technology and Winch Design has recently signed a deal with an internationally recognised and pioneering technology leader who develop and deploy energy-efficient products and systems. Pending the right project and client, Winch Design would be on its way to deliver the first hydrogen fuel-cell powered superyacht on the market."