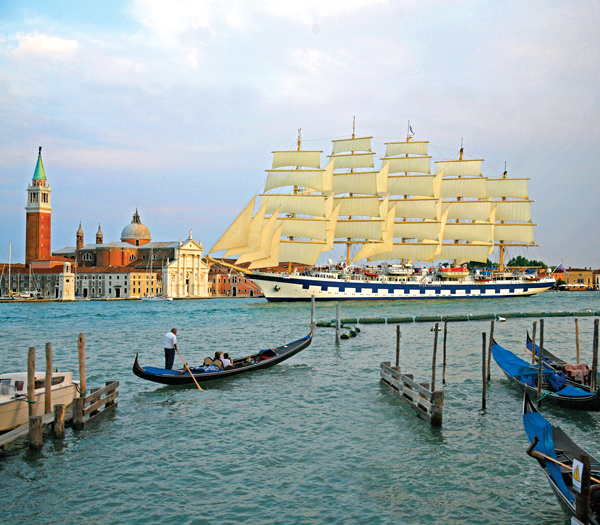 Experience three icons of glamour in one grand adventure – the Orient Express, Cipriani Venice Hotel and Royal Clipper tall ship. www.starclippers.co.uk
A limited number of guests now have the opportunity to book a magnificent, tailor-made, 11-night holiday from Star Clippers UK. It includes travel from London on-board the glamorous icon of the rails, the Venice Simplon Orient Express, three nights in world-class, vintage glamour at the Belmond Cipriani hotel, Venice and seven nights sailing on the five-masted tall ship, Royal Clipper, the world's largest and most glamorous sailing vessel of her kind.
The holiday departs on August 20th, 2020 from London Victoria station, where blue and gold liveried stewards welcome guests aboard the Orient Express, a sparkling jewel of the art deco era. A night's stay in Venice, pre-cruise, gives guests a first introduction to the iconic luxury and romance of the Cipriani hotel, resplendent with antiques and local artefacts and fronting the water with vistas from the Doges Palace to the church of St. Giorgio. Post cruise, guests will return for a further two nights' stay, to enjoy the lagoon vistas, Michelin starred dining and the only Olympic sized pool in Venice.
And when life could barely get more glamorous, the head-turning Royal Clipper makes a spectacular arrival via Venice's main waterways. Cocktails on arrival and a warm welcome from the crew give a flavour of the ensuing seven nights ahead, sailing from Venice to Croatia and Montenegro on one of the most elegant, fully crewed vessels afloat. Port calls into Croatia's islands and the most spectacular and the most incredible and scenic voyage to the head of the Kotor fjord make for life-long memories, before an incredible return through Venice's canals, with views right across St Mark's Square and the city from the upper decks of Royal Clipper.
£7,289 / €8,449 / $9,400 per person