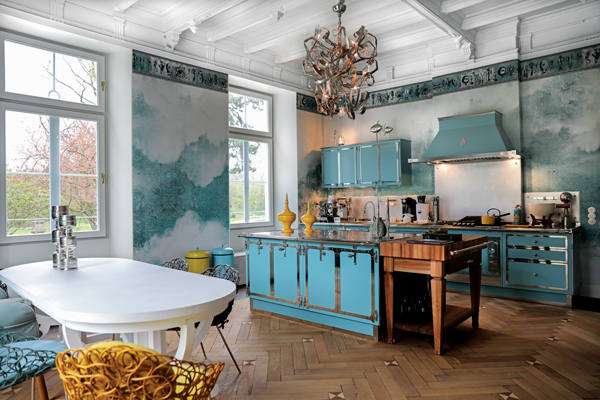 Instead of choosing just one luxury kitchen appliance, why not create the cooking area of your dreams with help from Officine Gullo?
This beautiful blue number in particular is a showstopper, fitted with a number of Officine's kitchen equipment and designed to suit a customer's specific requirements. The pastel turquoise and satin nickel finish perfectly complements the sea-inspired design which hugs the walls. There's a preparation island with a solid wood cutting board, and a multi-function electric oven which has a hob with five burners – brush and scratch resistant stainless steel coating makes for a sturdy design.
            The cooking area also has a tailor-made extractor hood, as well as perfectly positioned cabinets. Using the most cutting-edge technology, the company's wide range of professional cooking accessories from the built-in hobs and lava stone grill to the smooth and grooved griddles, cast-iron coup de feu and induction cooktops will make for the most eye-catching and multifunctional environment. Prices are dependent on customer specifications.