Travel to 42 destinations in 26 different countries across five continents on board the Pacific Princess.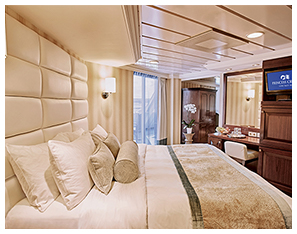 Princess Cruises has recently revealed its 2020 world cruise itinerary on Pacific Princess. Departing on January 5th from Fort Lauderdale and January 20th from Los Angeles, the 670-guest ship will sail a fabulous 111-day roundtrip itinerary.
Jan Swartz, Princess Cruises' president said, "We've been offering world cruises since 1998 and our team of destination experts knows how to create the best worldwide itineraries like no other in the cruise industry. Our captain, officers and crew regularly hear from passengers the impact the world cruise has on them, as they share their appreciation for taking them to places they never in a million years thought they would experience."
£49,454 / €56,385 / $66,454 per person for the S2 Owner's Suite (based on two people sharing). Price includes accommodation, return flights from London, transfers, all main meals on-board and entertainment.