If you're looking for the ultimate in convenience and comfort, flying by private jet offers huge advantages. We reveal Europe's most popular routes and take a closer look at the spacious 787 Dream Jet.
Routes between Geneva, Paris, Nice, Moscow, Rome and Milan rank among the busiest for private jet flights in Europe. This is the result of the current top 10 ranking of the most popular private jet connections in Europe, compiled by Engel & Völkers Aviation. The survey is based on the number of routes flown in 2016 and includes flights both on board privately owned aircraft and jets chartered for individual connections.
"The most frequented private jet route in Europe is from Aéroport International de Genève in Switzerland to Aéroport de Paris-Le Bourget in France," says Bart Boury, CEO of Engel & Völkers Aviation. Last year, private jets flew this route a total of 1,647 times. Ranked in second place is the route in the opposite direction, from Paris-Le Bourget to Geneva (1,571 flights).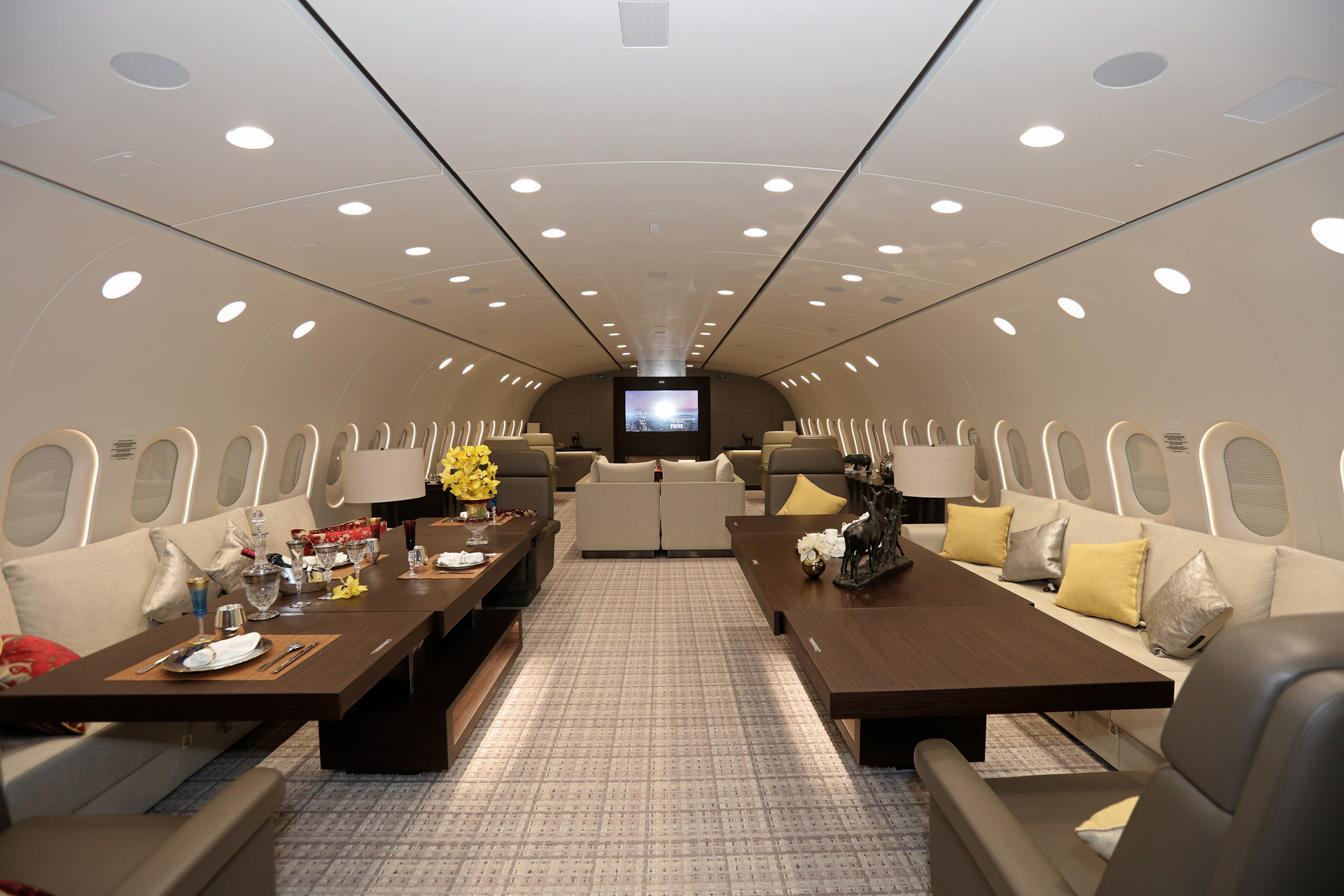 A world-first
Deer Jet started as the first private jet company in China 22 years ago and has evolved into the largest business aviation group in Asia. It has a heritage of delivering bespoke services for global leaders, monarchs and entrepreneurs and now manages and operates a 90-strong aircraft fleet – including the world's only 787 Dream Jet.
Back in May, Deer Jet marked its European debut of the 787 Dream Jet, making a brief stop at London Stansted Airport (Harrods Aviation FBO) before continuing with a series of exhibitions across the globe. Typically, the aircraft resides at Hong Kong International Airport operated by Deer Jet's subsidiary Hong Kong Jet.
This B787-8 Dream Jet is capable of flying non-stop for 18.5 hours or 16,000 kilometres, the equivalent of London to Perth, Australia, non-stop. This is due to the fact that the aircraft's fuselage is made from carbon fibre material, making it lighter and far more fuel efficient.
Newly circulated clean air is accelerated in the cabin meaning a healthy environment for its limited number of just 30 passengers as dust and any bacteria is filtered in the process of airflow, making for a more comfortable and healthy flying experience. Most conventional passenger jets have a cabin pressure of around 7,500 to 8,000 feet above sea level, which Boeing says contributes to passengers feeling unwell in-flight. The 787's cabin pressure is set to 6,000 feet at a height of 30,000 feet. Tests have proven that between sea level and 6,000 feet people remain perfectly comfortable onboard, even on a mammoth 18-hour journey.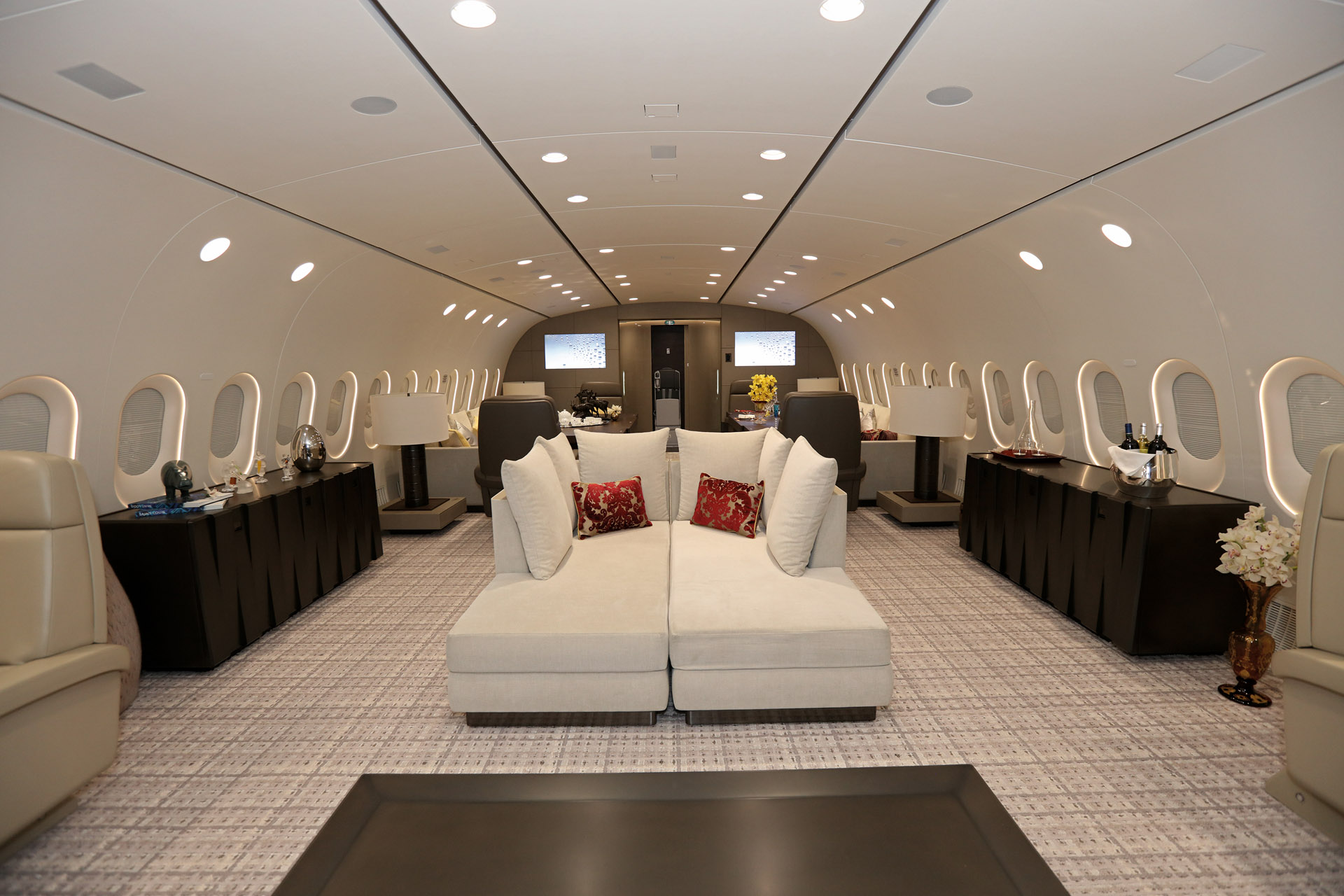 Superior service
With the 787 Dream Jet as its flying platform, Deer Jet has chosen the best pilots and first-class flight attendants to deliver ultimate service and a superior travel experience. Pilots have over 2,000 hours' international flight experience, plus more than 10,000 total flying hours. A total of 12 pilots from almost 1,000 pilots flying 787s for its parent company HNA Group have been selected to be part of the 'Dream Team.'
Deer Jet's stewards use seven-star hospitality standards, acting as inflight butlers, evoking different feelings for the variety of customers they serve, in any given flight. In line with this, the style and colour of the cabin is frequently changed. Deer Jet-curated spaces are decorated with hand-picked amenities and bespoke collections of precious crystals, cushions, silverware, and porcelain. Exclusively for the London exhibition, the 1836 Savile Row-established, Holland and Sherry, showcased its bespoke product interiors collections on board, adding British style to the 787 Dream Jet's cabin.
Deer Jet is also launching exclusive, bespoke travel packages aboard the 787 Dream Jet, starting with the 'Hong Kong to Tahiti Dream Journey'.  It features a seven-night charter package including complimentary accommodation at the Presidential Suite of St. Regis Bora Bora Resort. Deer Jet plans to add more itineraries in the future as part of its goal to create seamless travel to fulfil its vision of 'Making travel an Art'.
The price to charter the 787 Dream Jet is approx
£55,000 / €61,050 / $72,650 per hour