One of the seven emirates that make up the UAE, Ras Al Khaimah is currently enjoying a surge in popularity with increasing numbers of tourists and investors discovering the charms of this ancient place. Its landscape of desert, mountains and coastline offers a wealth of leisure possibilities, attracting visitors from nearby Dubai at the weekends, and now, importantly, from overseas. Figures from the Ras Al Khaimah Tourism Development Authority show an increase in hotel occupancy rates of more than 23% in January 2016, compared to January 2015, with the authority's aim being to attract one million visitors by 2018. In real estate too, the outlook is buoyant. Property prices and rents are lower here than in Dubai and Abu Dhabi, which translates to lower living costs and so a better quality of life for residents. Dubai International Airport is just a 45-minute drive away, which also makes the area extremely accessible for overseas buyers looking for a second, or holiday home. According to Barry Ebrahimy, head of commercial at Al Hamra Real Estate Development,
"Ras Al Khaimah is a leading investor destination in the Middle East with a global investor base of over 5,000 investors."
The company's flagship development, Al Hamra Village, encompasses 1,000 villas and 2,500 apartments, not forgetting 1.5km of beaches, a 200-berth marina, a championship golf course, five hotels and two shopping malls.
"Al Hamra has long combined a high standard of life with exceptional quality build and value for money,"
says Mr Ebrahimy.
"It offers the perfect balance for families seeking a safe and relaxed environment with investors looking for excellent returns, something the rest of the UAE is keen to replicate."
Also popular with investors, Al Marjan Island is a manmade structure made up of Breeze, Treasure, View and Dream islands that extends 4.5km into the sea. A residential, resort and leisure complex the development will result in a total of 12,000 hotel rooms and 10,000 villas and apartments, as well as almost 8km of beaches. With an expected increase in the number of tourists from overseas in coming years, thanks to the recent promotion of the emirate as a holiday destination, and already growing numbers of visitors from the UK, Germany, Russia, India and Finland, potential returns for investors are looking more and more attractive.
Add to that the absence of personal income tax, corporate tax and sales tax, and Ras Al Khaimah is shaping up to be a hot prospect for property buyers. Indeed, the Financial Times FDI Intelligence magazine placed it at number eight overall in its top 10 Global Cities of the Future 2014/2015 small and mid-sized cities, out of a total of 130 locations.
(Above) Al Marjan Island
This man-made island extends 4.5 kilometres into the sea and covers an area of 2.7 million square metres. Set against the picturesque backdrop of the Arabian Peninsula, and enclosed by the Yanis and Jais Mountains, Al Marjan Island welcomes residents and visitors from all over the world. A collection of four pristine man-made islands, each one offers complete leisure and entertainment opportunities. With waterfront homes, quality hotels and resorts, marinas, private beaches for residents, leisure, retail and recreational facilities, Al Marjan Island meets all residents' and visitors' needs. World-class education and health facilities are also accessible in close proximity to the island. As an investment destination, Al Marjan Island offers endless opportunities for property investors and developers seeking exceptional residential and leisure facilities that provide superb lifestyle choices.
Various plots are available for development Al Marjan Island
+971 7 2035 000
[email protected]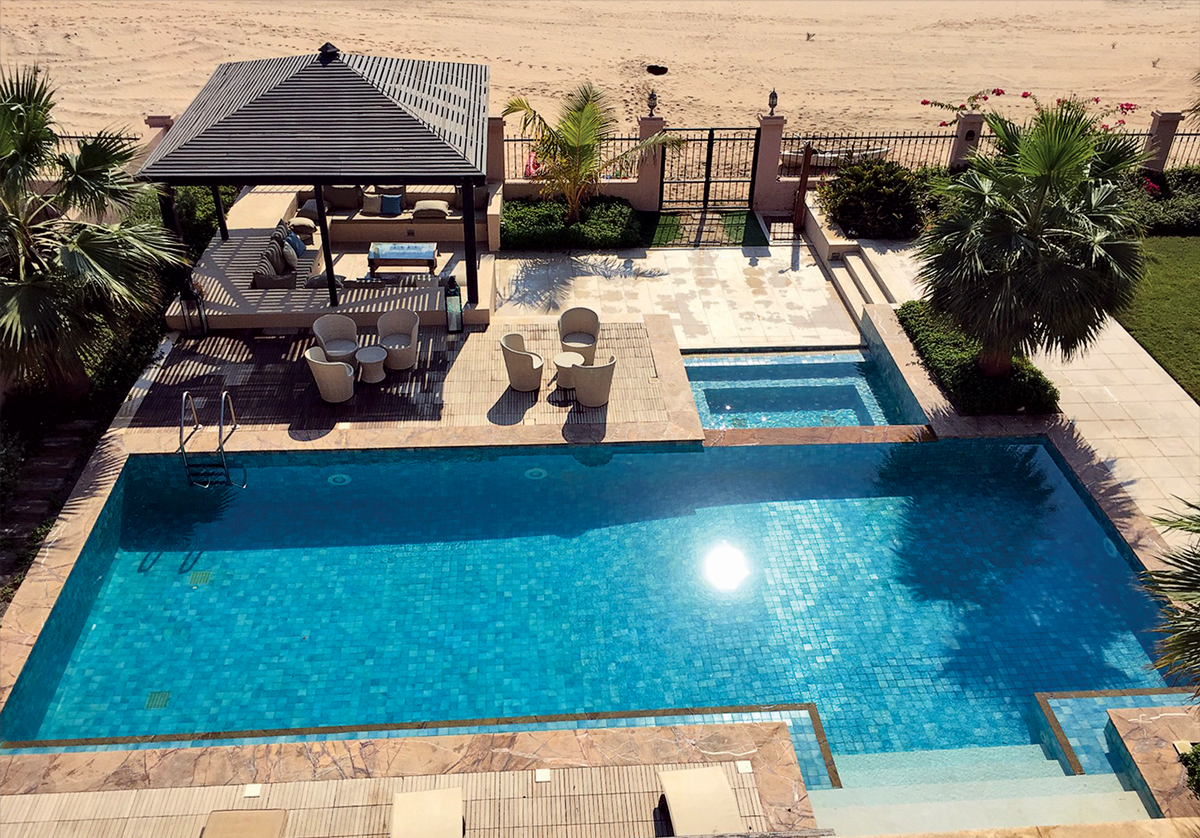 Al Hamra Village
Six-bedroom villa providing extensive family living space. Its traditional design and contemporary features merge to create a residence that is at one with its landscape yet equipped with features designed for modern living. These include central air conditioning, a fully fitted kitchen and private swimming pool. In addition, the villa has six bathrooms, a study, staff quarters, a garage, balcony and private garden, ensuring views over the sea and the nearby golf course, as well as beach access.
£1.39m / €1.75m / $1.99m Prestige Real Estate +971 4 446 8300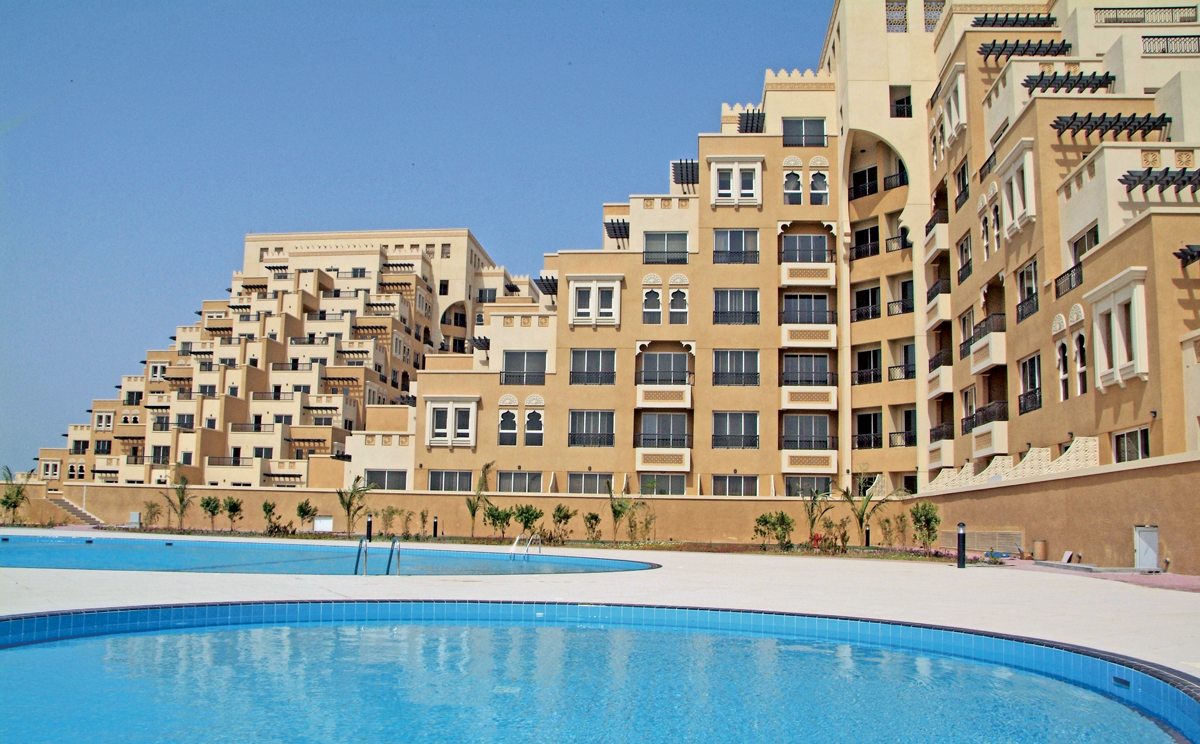 Bab Al Bahr Residence, Al Marjan Island
Three-bedroom penthouse with direct beach access, close to the marina and par 72 championship golf course – so for leisure, all bases are covered. Every bedroom has an en suite bathroom and direct access to either a terrace or balcony offering panoramic sea views. A living and dining area, kitchen and breakfast room, cloakroom and staff quarters complete this property. Part of a gated community with 24-hour security, the apartment also has two dedicated parking spaces and is located within easy access of international schools, hospitals, shops and restaurants.
£536,000 / €671,800 / $765,000 Al Hamra Real Estate +971 7 243 27 24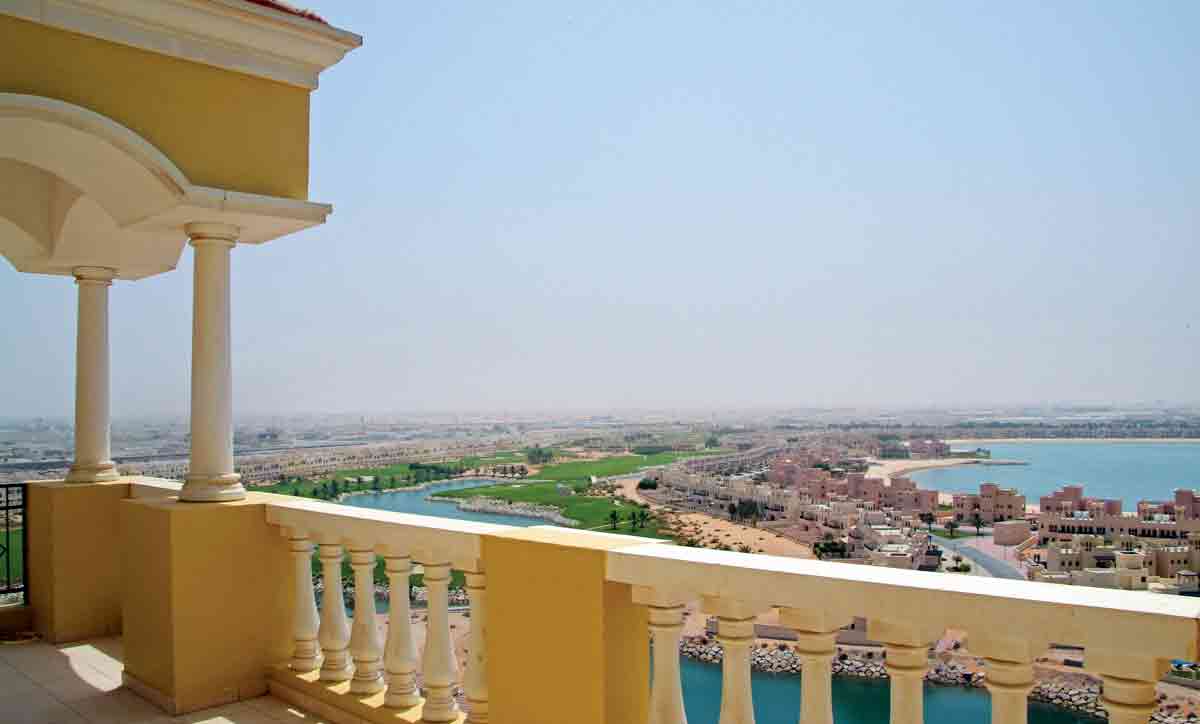 Royal Breeze, Al Marjan Island
Sunning duplex penthouse offering 670m² of living space within a gated community, close to a wealth of facilities, including international schools, shops and restaurants. The apartment has no fewer than five terraces affording panoramic views of the sea and the nearby championship golf course. Inside, the bedrooms all have en suite bathrooms, while three reception rooms – a family room, lounge, living and dining room – provide ample relaxation space. The kitchen also offers a comfortable sitting area. Staff quarters, a cloakroom and private parking complete the offering.
£1.4m / €1.8m / $2m Al Hamra Real Estate +971 7 243 27 24