Florida
Year-round sunshine, high temperatures and an enviable position on the edge of the Gulf of Mexico, makes Florida an attractive proposition for property investors, both at home and abroad. A longstanding favourite among international buyers looking for holiday properties, Orlando is home to a number of world-famous theme parks; the Keys – made famous by Hollywood in films such as Key Largo and known for their unique wildlife and landscapes – sees buyers attracted by a boating lifestyle, while those seeking cosmopolitan city living are drawn to Miami.
"As an economic and wealth hub and the fastest-growing city in Florida, it is a very rational choice for investors,"
says Scott Hagerman, investment manager at IP Global in North America.
"The city has seen 37 consecutive months of rising prices and the Downtown area continues to be the hotspot for homes, with the population doubling in 15 years."
Despite a drop in prices of as much as 30% since 2007, says Mr Hagerman.
"Its property market has done well to rebound following the recession. Downtown condo prices have increased 10% since the start of 2014."
Buying power
Within the domestic market, different parts of the state attract different demographics. According to Rick Moeser, senior vice president at Christie's International Real Estate,
"Florida offers diverse living for many people, Miami is the most international, offering an exciting lifestyle with a Latin flair; the Keys are laid back and all about enjoying the water; the west coast (Naples, Sarasota and Tampa) is most popular with Midwesterners; Fort Lauderdale to Vero is the second home destination for the northeast."
Southern Florida specialist One Sotheby's International Realty highlights Brickell, Miami's financial centre, and Coral Gables on the coast as areas to watch, both increasing in popularity among buyers. According to Fernando de Nunez, the company's executive vice president of exclusive developments.
"The most popular oceanfront neighbourhoods span from Miami-Dade to Broward County and include Key Biscayne, Miami Beach and its various private islands, Bal Harbour, Sunny Isles and Fort Lauderdale,"
he says.
"These areas offer spectacular condos and single-family homes with the prime location near beaches, nightlife and a thriving culture."
The international market can be further broken down, Mr de Nunez explains,
"Each neighbourhood within South Florida attracts a different kind of buyer. For instance, Sunny Isles, a beachfront community in northern Miami-Dade, has always caught the attention of international buyers from Brazil, Mexico and Russia. Fort Lauderdale, the urban centre of Broward County just about 25 miles north of Downtown Miami, is coveted mostly by domestic buyers from the US and Canada, but as of late has begun to attract Scandinavian countries as well as South Americans from Brazil, Venezuela and Peru."
Miami Beach attracts New Yorkers, French and Italian buyers, while Brickell counts investors from the Caribbean and Central America.
"All in all, Latin America is responsible for about 45% of sales in South Florida,"
he continues.
"North easterners from the US and Canada are our second strongest group composing about 21% of our buyers. Europeans account for about 13% of purchases and, most recently, interest from Asian buyers has picked up to account for about 4% of sales."
Over on the west coast, Sarasota and Naples are popular with those looking for resort-style living with luxury homes on generous lots offering waterfront access. The most popular place to purchase in this region is anywhere on big water – the Gulf of Mexico, a bay or wide river according to a spokesman for Gulf Coast-based real estate broker Michael Saunders & Company. Gated country club communities and the cultural attractions of downtown Sarasota also appeal to prospective property purchasers.
It seems the market is healthy and likely to remain so. The company goes on to report that luxury property throughout Florida enjoyed a record year in 2014, and is on its way to an even better one in 2015. To date in 2015 sales of properties over $1 million in the Sarasota-Manatee area are 13% ahead of the same time last year. With such a buoyant marketplace that seems only set to grow further, the future is certainly looking rosy for the luxury segment in the Orange State.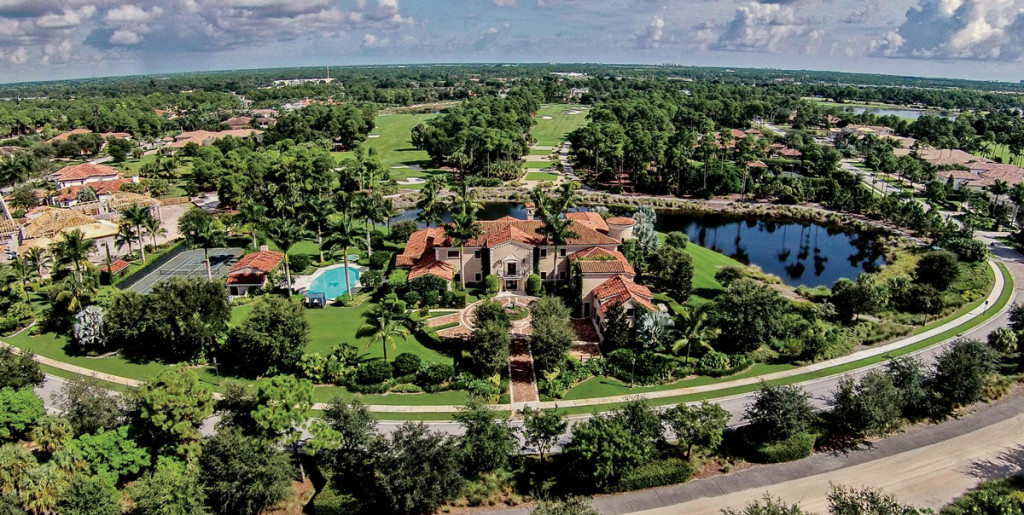 Palm Beach Gardens
This six-bedroom, 12 bathroom, 13,523 square foot home was completed in 2010. It is set on two acres overlooking the 13th and 14th hole of the beautiful Old Palm Golf Club. With an area of over 16,000 square feet, the estate has been designed in Old World Mediterranean style with its own tennis court and pool.
Old Palm Golf Club is one of the finest clubs in the country offering limited membership, superior services and privacy. It features an 18-hole Raymond Floyd Championship golf course with caddie program and no tee times, a state-of-the-art 33-acre practice area, full fitness centre, as well as a spa and salon with massage treatments. Old Palm Golf Club members also have full use of the beach club and dining privileges at the Resort at Singer Island.
£8.7m / €12.3m / $13.5m
Waterfront Properties +1 (561) 222 2366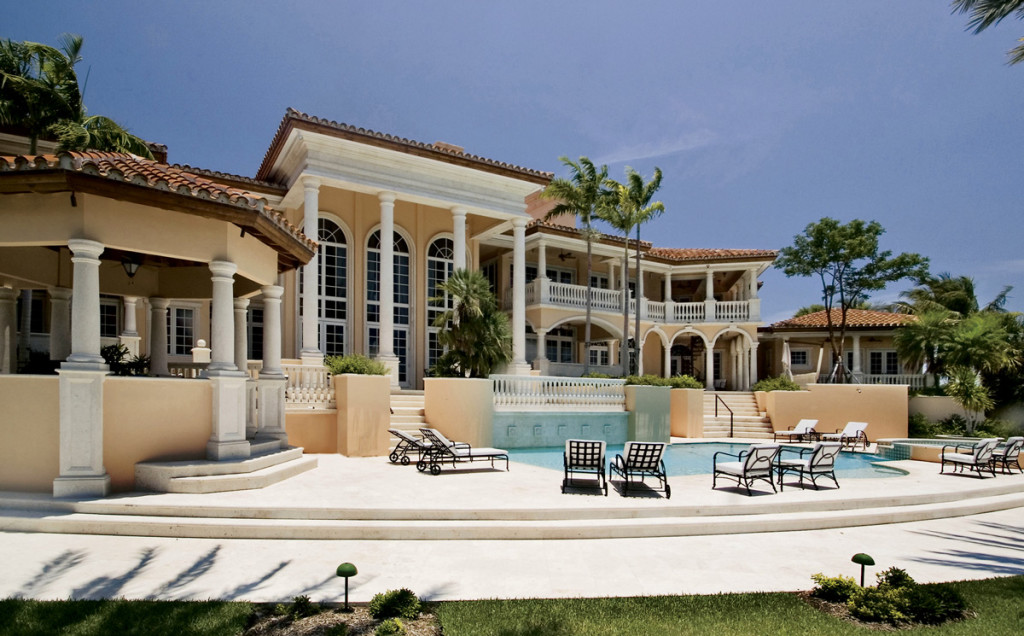 Key Biscayne
Between the Atlantic Ocean and Biscayne Bay, and just a short drive from Miami, Key Biscayne is known for its quality beaches and coastal reef. Ideal for sailing enthusiasts, this property has346 feet of water frontage and can accommodate boats of 100 feet plus.
Inside the property, 18,091 square feet of living space is divided into nine bedrooms, including a master suite with living area, eight full and two partial bathrooms, a games room and bar, designer kitchen, office, theatre and library. Outside, the landscaped grounds encompass a swimming pool, covered terraces, balconies, patio areas, lawns and a garage.
£10.2m / €14.5m / $15.9m
Christie's International Real Estate +1 305 960 2500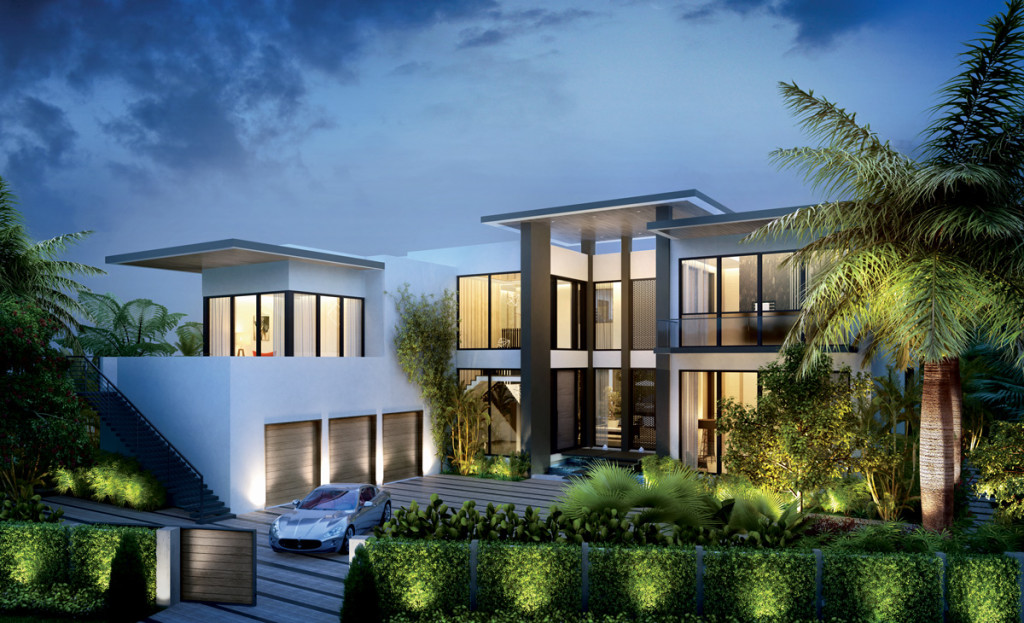 Park Bay House, Miami Beach
This new home, due for completion in early 2016, is on the waterfront at Miami Beach. It offers 12,000 square feet of living space on a lot size of 23,258 square feet. It includes seven bedrooms, eight bathrooms, three family rooms, a luxurious kitchen and a home cinema. In addition, an outdoor kitchen and outdoor covered dining area make the most of the tropical Miami climate year round. The outdoor space also includes a swimming pool, landscaped grounds, wooden decking, patio areas, a rooftop terrace and garage.
£15.7m / €22.3m / $24.5m
Christie's International Real Estate +1 305 960 2500
Harbor Point, Key Biscayne
Offering 10,674 square feet of living space, this contemporary-style residence features a double-height entrance hallway, large kitchen with bar, family room, seven bedrooms including a master suite, 10 bathrooms, a library and staff quarters. Covered terraces and balconies offer stunning views of the ocean and Miami, while the grounds are home to an infinity pool, pool pavilion, outdoor kitchen, garage with guest apartment, private beach and dock. £13.5m / €19.1m / $21m One Sotheby's International Realty +1 786 277 7539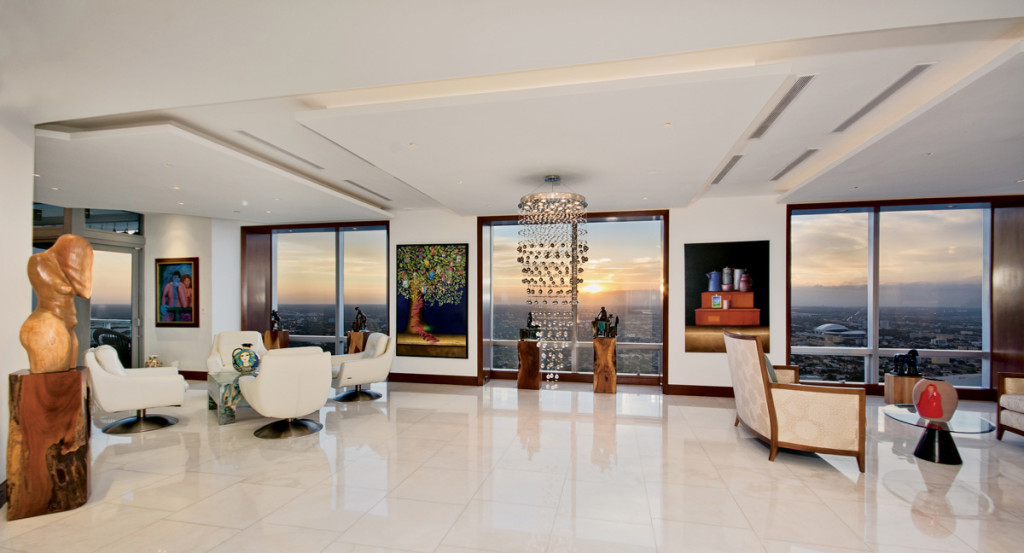 Four Seasons Residences, Miami
Featuring three penthouse units knocked into one on the 70th floor, this is said to be the highest penthouse in Miami. It also includes all the benefits of the Four Seasons Hotel Miami including spa treatments, fitness centre, residents' only pool and concierge services. This three-bedroom, three bathroom urban retreat covers just under 6,000 square feet and has fabulous views. It includes a private elevator foyer, art gallery with open living concept, Swarovski chandeliers, Snaidero kitchen, state-of-the art media room with 100 inch theatre screen, Crestron Control and interchangeable Lutron lighting system. A separate entrance, private elevators and preferred membership at the Sports Club/LA Miami ensure immediate and discreet access to both the penthouse and all leisure facilities.
£7.7m / €10.95m / $12m EWM Realty International +1 (305) 329 7718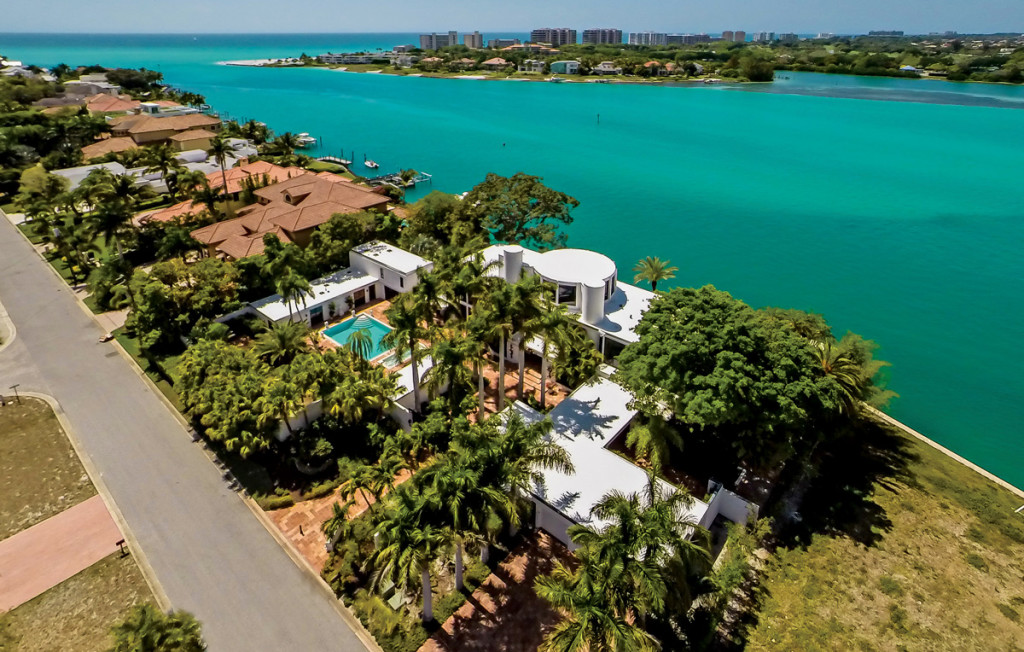 Sarasota
Counting 60's and 70's pop singer Bobby Vinton among its past owners, this stunning waterfront home offers spectacular ocean views and verdant grounds. The main residence covers 9,000 square feet and there's also a four-bedroom guesthouse for visitors. Rooms include a spacious kitchen, theatre, eight bedrooms, nine full and two partial bathrooms, living room, formal dining room, study and wine room. The master suite occupies its own wing and features sitting areas, a walk-in closet and private laundry. Outside, a screened 77 feet waterside porch leads from the house, while the swimming pool, spa, sauna and bar area are in a courtyard between the main home and guest accommodation. The property also includes a deepwater dock.
£5.1m / €7.3m / $8m Michael Saunders & Company +44 (0)20 7467 5330