Through bold accents and a unique vision for each project, Flora Di Menna Designs (FDM) has raised the bar on luxury design. Toronto-based and admired globally for her innovative take on modern styles and the latest trends, Flora and her team have crafted a flavour of design that's all their own – a bright interpretation of their clients' personalities mixed with their award-winning expertise in the industry.
Gone are the days of the dull home theatre. FDM incorporates sleek millwork, mood lighting and bespoke seating design to produce a mixed-use space that will make you want to entertain every weekend. More than ever, Flora is also incorporating beautifully curated art collections into entertainment spaces, taking design cues from the client's blue-chip taste. Reflecting the personality of each individual client is crucial in a space where they hope to entertain friends and family.
"A lot of clients aren't sure what they want initially, so it's our job to ask the right questions and come up with a game plan,"
says Flora.
"If the room is planned properly, the desired look can be achieved no matter what space you're working with."
Whether a client envisions a family space, a sports hub or a zen lounge, everything is taken into consideration and no detail is spared. The integral components of a theatre remain the focus – state-of-the-art technology, acoustics and lighting are paramount to the success of the space. The key is to ensure the space's versatility, and FDM has a knack for designing upgraded theatre spaces.
Flora also considers incorporating a wet or dry bar and confectionary area essential in new entertainment spaces, elevating functionality and aesthetic. The ability to move pieces within the space and customise the layout for various gatherings is also invaluable.
Flora Di Menna Designs
+1 905 709 2077
[email protected]
www.fdmdesigns.com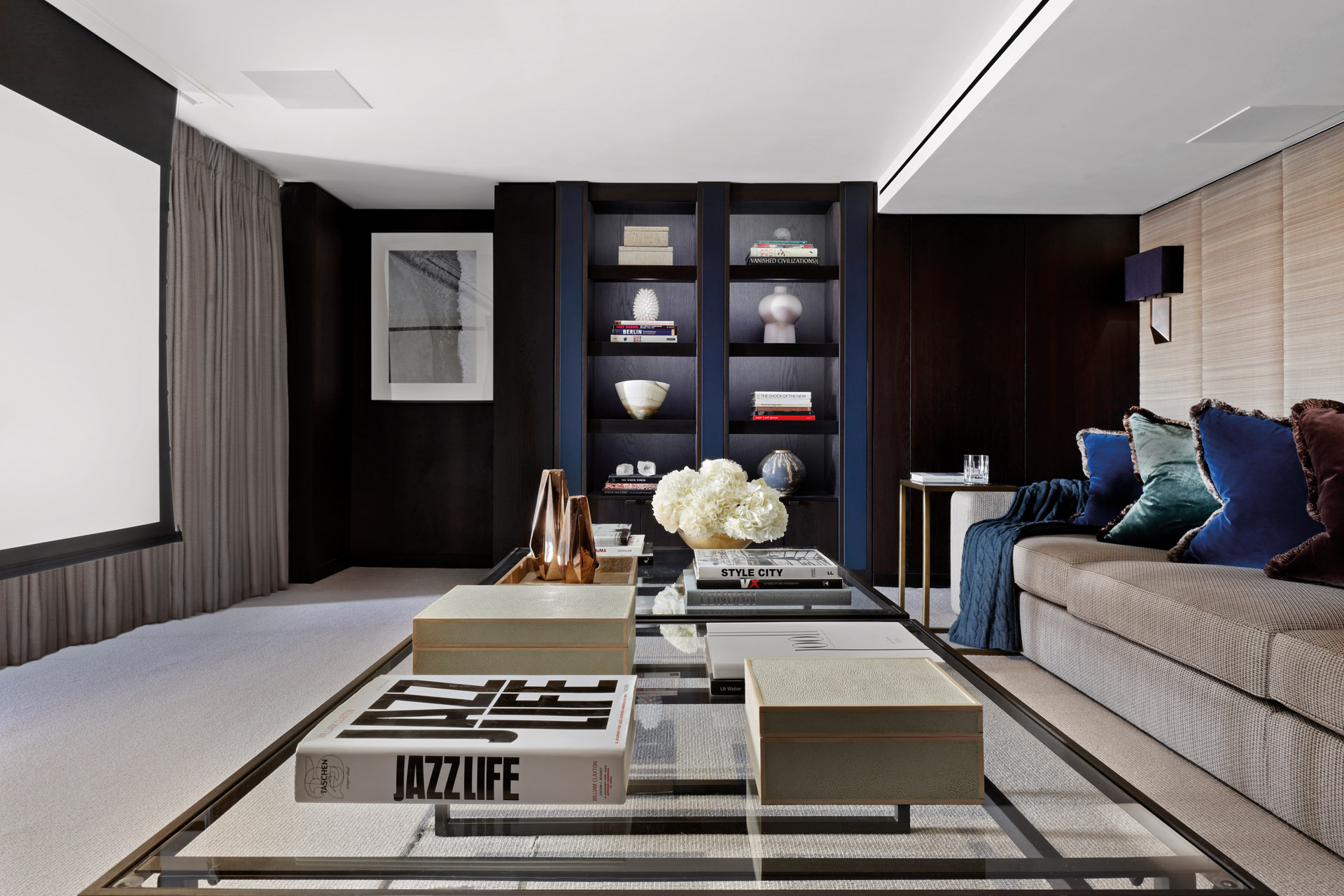 Taking shape
Based in Chelsea, Helen Green Design is one of Britain's leading interior design practices. The studio has an international portfolio spanning listed townhouses in Belgravia and country homes in Sussex to hotels in the Caribbean. Sammy Wickins, the company's commercial director, advises that the first crucial considerations when planning the design of a home theatre are the shape and position of the room within the property.
"Completely square rooms are not ideal,"
she stresses,
"if you have the choice go for a rectangular room. Natural light and the number of windows are a huge factor – the fewer the better and use a black-out heavy curtain which minimises light intake, harmonises with the soft furnishings within the room, and contributes to the feeling of comfort within the space. Soundproofing the walls is not only functionally beneficial but can also be a canvas to create texture, warmth and subtle interest."
Comfort is everything and so this often means creating beautiful custom sofas and seating. These could be expansive sofas or commissions of old style cinema seating. L-shaped sofas work along the back wall with upholstered ottomans in front to put your feet up. Double armchairs which recline are also proving popular at the moment and best suited to the front row in larger rooms.
Chic yet durable fabrics are by far the best options.
"Heavy linens, wool and velvet work well for upholstered items,"
says Sammy.
"Luxurious carpet or rugs add luxury underfoot and we always love to add an element of bronze, brass and wood.
"The expectation of these rooms, much like a principle living or drawing room, has really come to the fore – to offer refuge, relaxation and escapism and to re-create an atmosphere which captures the cinema or theatre experience yet is so personal to them."
Helen Green Design Studio
t: +44 (0) 20 7352 3344
[email protected]
www.helengreendesign.com